Samsung Marshmallow is an all-in-one parental control app for Galaxy phones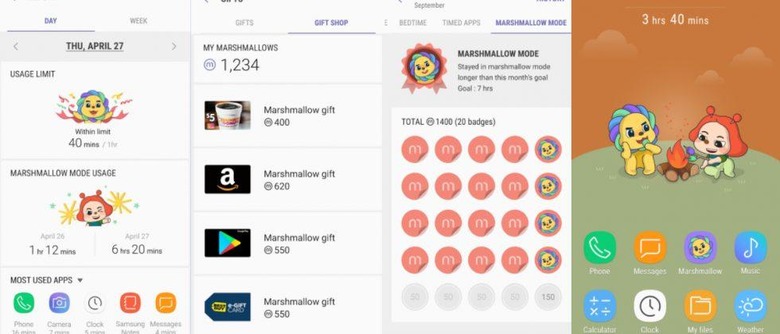 While some still advocate for keeping tech out of kids' hands until they're older, many parents are opting to introduce their kids at a young age. With that comes the tricky issue of management, though — trying to stay hands-off without letting the device usage run unmonitored. That's where Samsung's new Marshmallow app comes in...and no, it doesn't have anything to do with Android Marshmallow. This parental control app enables parents to limit their kid's screen time and more.
A parental control app works about how you'd expect — parents install it on their kid's device and then use it for a combination of monitoring and controlling activities. A parent can, for example, use Samsung Marshmallow to restrict access to apps that are age-inappropriate, to set a child's bedtime, and to view how the phone was used over the course of the day.
The app, of course, isn't intended to be punitive. Samsung explains that 'Marshmallow is a smartphone management, parental control app that helps a child develop healthy smartphone usage habits based on self-control.' In that spirit, Samsung enables kids to set their own daily limit, for example, and to earn points when they use their phone in the way they're supposed to.
A kid that doesn't follow the Marshmallow rules will lose points, so there's an incentive to obey that ultimately rewards positive action. Samsung says points can be used to acquire gift cards from the app's gift shop. As for parents, there are options to limit the number of apps to eight, and to view reports on both daily and weekly device usage.
There is a small 'catch' when it comes to this device, though, and it's that you need a Galaxy phone to use the app. The support phones include the S6 and higher, Note 4 and Note 5, A5 and higher, and J3 and higher. Samsung Marshmallow can be downloaded from the Google Play Store now.