Samsung M9500 UHD Blu-ray Player is optimized for HDR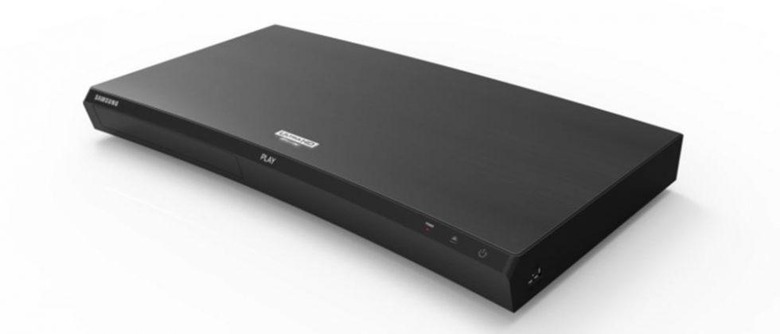 Samsung has unveiled its new M9500 Ultra HD Blu-ray Player, a sophisticated device as far as disc players go. The model is HDR optimized and supports Bluetooth Wireless Streaming, says Samsung, as well as the Samsung Smart Remote and Ultra HD televisions. This is one of multiple media products Samsung unveiled recently, the others including a sound bar and wireless speaker.
The Samsung M9500 UHD Blu-ray Player is designed to set the TV screen automatically to an optimal level, as well as the audio, with the optimal level being based upon the content source — an HDR movie, for example, will need different optimization than a non-HDR movie. This eliminates the need to manually adjust the audio or pictures.
The Blu-ray player also offers a "Private Cinema Mode," which enables users to listen to their television content using a pair of Bluetooth headphones rather than the TV speakers. It's a convenient feature that is becoming more common as Bluetooth headphones and earbuds decrease in cost and increase in battery life.
Samsung goes on to say the M9500 has better mobile integration than previous models — with this, users can choose shows using their phone or tablet. As well, owners can play 360-degree videos and photos on their television via the mobile device and the Blu-ray player. Pricing and availability isn't clear at this time.
SOURCE: Samsung