Samsung Linux on DeX beta hands-on: do almost everything on your phone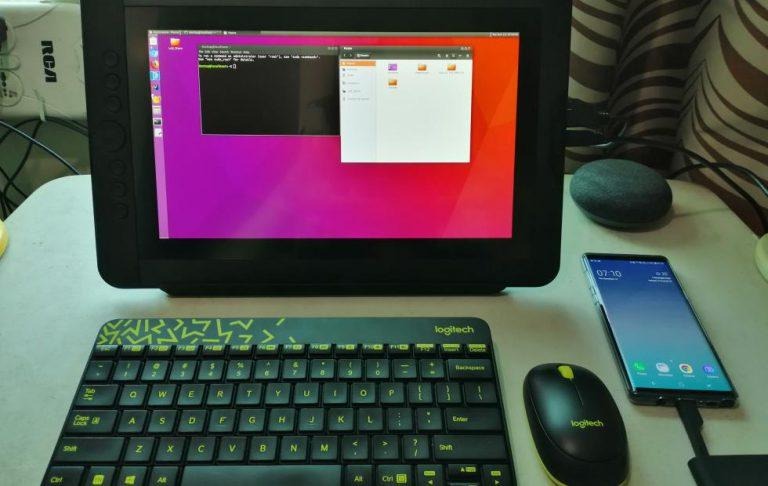 Google seems to be pushing Chrome OS as the one platform to rule them all. Samsung now seems to be singing a slightly different tune, but one that, unsurprisingly requires buying and playing its instruments. After promising and teasing it last year, Samsung has finally started the beta of its Linux on DeX experience to the interested few that own a Galaxy Note 9 or a Galaxy Tab S4. Even while still in beta form, the experience is already impressive and can really let you get almost anything accomplished just using your phone with one important and very obvious caveat. You have to be comfortable using Linux.
Truth be told, what Samsung is doing is nothing new on a technical level. Without going into the messy details, Linux on DeX practically involves running on Linux container (as opposed to using Docker) on top of Android that you can VNC or SSH into. That has done before and there are also other ways to run Linux on or even beside Android. What Samsung offers with Linux on DeX is the ease of setup and its rather impressive performance.
Once you get into the beta, you will receive an email that lets you join the beta testing group and download the Linux on DeX app from Google Play Store. Alternatively, you can (carefully) download the APK from XDA. Either way, you will need a Samsung account to actually use the app (and a Gmail account to officially sign up for the beta).
Setting it up is easy and is mostly a step-by-step process. Be warned, however, that you will be downloading a 3.67 GB file on your phone. Don't worry, it will only download via Wi-Fi and pause when you switch to cellular. However, the download could fail, in which case you'll have to start all over again. Or you can just download the archive on your PC, extract the 10 GB file from it, and then copy it over to your phone or tablet under the LoD folder. You can then choose to browse for the image rather than downloading it anew.
Aside from the Galaxy Note 9 and Galaxy Tab S4 requirement, Linux on DeX also works only in DeX mode, which is admittedly more difficult for the Galaxy Note 9 since it requires hooking up an external monitor. For quick Command Line operations, using the app directly is possible. Once you do get LoD running, you will be presented with a graphical desktop that will be familiar with Linux users in general and Ubuntu users specifically. Considering this is a fully graphical desktop environment running on top of Android, the snappiness and performance of Linux on DeX is quite impressive. The now defunct Ubuntu Touch offered a similar experience on the Meizu PRO 5 but due to the wireless display connection and the nonstandard software, that experience was less than ideal.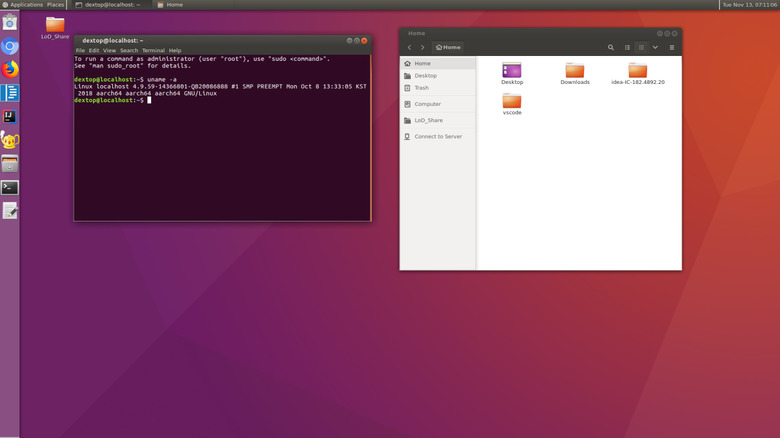 So what can you do with this Linux on DeX setup? Well, practically anything you can do on a normal Linux desktop, within reason and with some limitations. You have a desktop version of Chromium (not Chrome) and Firefox and the full LibreOffice suite. You can even play video and music (with some codecs) and even YouTube. Samsung, however, mostly intends it to be used for development, which is why it has installed IDEs (Integrated Development Environemnts) like IntelliJ's IDEA and even Microsoft Visual Studio Code. You can, however, install any Linux package that's available and built for the ARM64 (Aarch64) architecture. You also have to remember that you're running off a phone, so graphics capability is limited.
Linux on DeX does have a few quirks that not even seasoned Linux users might get immediately. Android's filesystem isn't shared between Android and Linux and the only way to share files between the two is via a specific LoD_Share folder. Shutting down the container is also not easily discoverable as there is no logout or shutdown option. You have to take your mouse cursor to the very top of the screen and wait for the hidden window title bar to slide down. Hit the back button at the upper left corner and you will be asked to confirm the shutdown. Alternatively, putting the cursor at the bottom of the screen will bring up DeX's own panel, letting you multi-task and switch between Linux and DeX-ified Android easily.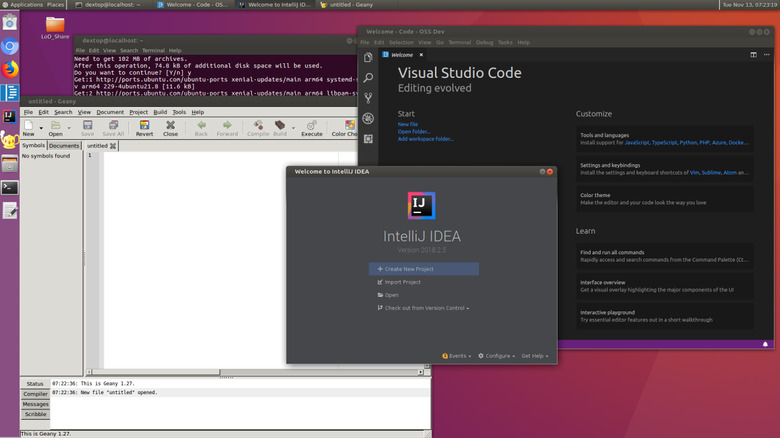 Among the various Linux on Android implementations, Samsung's Linux on DeX definitely looks the most polished ready to use solution, even if it's still in beta form. Although it uses a two-year-old version of Ubuntu, there is already a lot that can be done from that. Plus, just like Android users, Linux users can be pretty creative and only time will tell if they'll be able to use Linux on DeX to make almost any Linux distro work.