Samsung Chromebook Pro may be the next "Note" with S Pen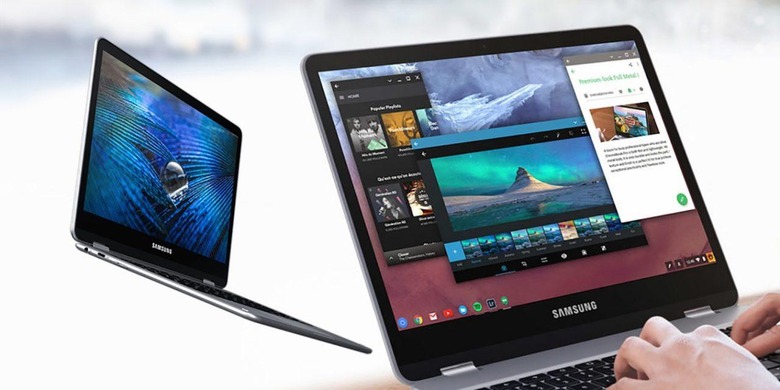 There's been word for several months now that Samsung has been working on a new Chromebook model under the codename "Kevin," and today we got an early look at the real thing thanks to a slip-up involving pre-order pages briefly going up early. This is the Samsung Chromebook Pro, and while it hasn't officially been announced just yet, a number of its specs and features were detailed, and it's clear that this is not the typical budget-friendly Chromebook, but a premium, high-end Chrome OS device.
The listings for the Chromebook Pro were briefly seen on the websites of retailers like B&H and Adorama, and a product landing page was even live on Samsung's site (cached version).
Among the impressive features are a 12.3-inch display with a sharp 2,400 x 1,600 resolution, along with the ability to rotate 360 degrees. That display is also a touchscreen, and combined with the laptop's included stylus means it can be flipped around and used as a tablet for drawing or writing.
The Chromebook Pro's chassis is all-metal and measures just 12.9mm thick, while the inside contains a 6-core 2GHz ARM processor paired with 4GB of RAM and 32GB of storage. It's battery life is said to be up to 10 hours, and the listings specifically mention Android app compatibility.
All these premium specs mean a high price for a Chromebook: the Adorama listing had it placed at $499, while B&H page (now removed) said availability would begin on October 24th. There's still no word on when the Chromebook Pro will get an official announcement, but the odds are high it will be within the next few days.
SOURCE Chrome Unboxed, Samsung, Adorama