Samsung Launches New S-Series Digital Cameras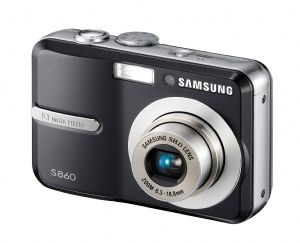 Samsung announced 2 new entry level S-series digital cameras today, the 7mp S760 and 8 mp S860. Both s series camera has the same features; the only thing that separates them is one mega pixel count. It feature a 3x optical zoom with 35mm film equivalent of 38-105mm, Samsung High-Definition (SHD) lens and Digital Image Stabilization with 2.4" LCD display. Advantage functions included Face Detection and Self Portrait mode and loaded with 11 scene modes designed for more advantage users and smart setting for amateur.
Battery is powered by friendly AA size and video mode is captured in 30fps AVI format with 2 resolutions to choose from, 320x240 and 640x480. US release should be around January 2008 with price tag of $179 for S860 and $169 for S760.
Samsung press [via press release]