Samsung Jasper pic leaks in Verizon livery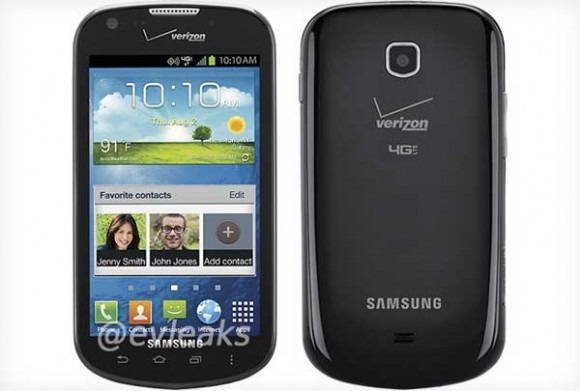 The rumor train for the Samsung Jasper SCH-I200 has been running for a while now and a new photograph of the front and back of the handset has leaked via twitter. This handset has been rumored for a long time and people looking forward to the midrange device will appreciate the photograph. The person who leaked the photo also gave a quick rundown of the claimed specifications of the smartphone.
It's worth pointing out that the specifications outlined with the leaked photo confirm rumored specifications from before. The device is said to have LTE 4G connectivity and a QUALCOMM Snapdragon S4 MSM8960 SoC. The display is what will make this a midrange smartphone even though it's processor is on par with many high-end offerings.
The display offers WVGA resolution at 800 x 480. The exact size of the screen is unknown. The smartphone will run Android 4.0 and has a button for multitasking in place of the search button. The release date for the smartphone is unknown, but the device is expected to launch soon.
[via TheVerge]