Samsung Haptic 8M touchscreen phone launched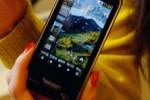 Samsung is adding to their touchscreen phones today with the Haptic 8M handset. This phone uses haptic feedback (hence the name) and sports a 3.3-inch display that has a 480 x 800 resolution.
The Haptic 8M supports HSPA-based 3G, T-DMB digital TV tuning and has an 8-megapixel camera. The camera is enabled with face tagging technology, meaning it can recognize faces. Other camera features include flash and smile detection.
Also included is a microSDHC card slot and the TouchWiz interface. The Haptic 8M will only be available in Korea at first on SK Telecom for the equivalent of around $660. Since this model does not support US 3G, there would need to be another version should it ever be released stateside.
[via Akihabara]