Samsung Gear S3 tipped for barometer and altimeter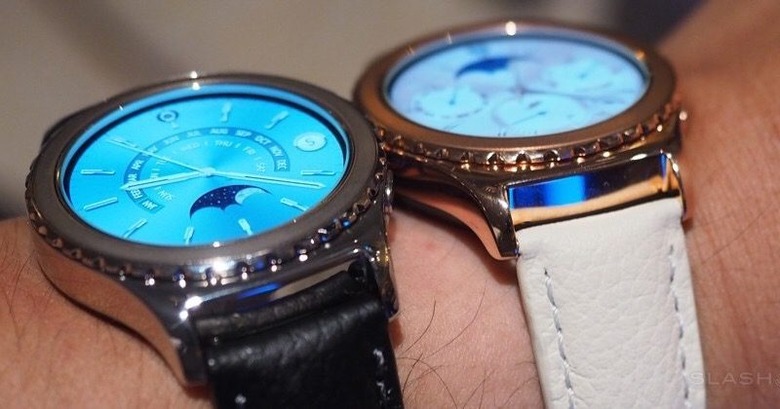 Details are slowly starting to leak out about the next smartwatch from Samsung, rumor has it that the device will be called the Gear S3 and it will be round like the version before. The new smartwatch is expected to launch in September at IFA 2016. Ahead of that launch, a new rumor claims to confirm some of the features that the S3 will offer.
The Gear S3 will, according to the rumor, come with an altimeter, barometer, speedometer, and integrated GPS. Those features, if accurate, seem to clearly show that the watch will be made for an active lifestyle. The altimeter will be able to measure altitude and show it in meter/mile on the display. I'd assume the standard feet above sea level to be an option as well, but that is unclear.
The altimeter will also reportedly have an altitude graph with altitude being plotted on the X-axis and Y-axis respectively. Calibration of the altimeter will be done using the internet and location services. An integrated barometer allows measurement of atmospheric pressure used for weather forecasting and determining altitude. Those readings will be in hPa units.
Gear S3 users will also get a weather indicator as well to give updates on upcoming weather conditions. Manual calibration of the barometer will be done by entering reference values for altitude, sea level pressure, and distance. The weather alarm will activate if the watch detects a pressure drop of more than 4 hPa over a 3-hour period. The speedometer will show current speed, average speed, and distance. These features would suggest that the watch is aiming at people who like an active lifestyle of hiking, mountain climbing, or surfing. The feature set would also seemingly suggest that the watch should be ruggedized. A normal fashion smartwatch couldn't be expected to survive in those conditions.
SOURCE: Sammobile