Samsung Galaxy Tab for Education tablet to launch this April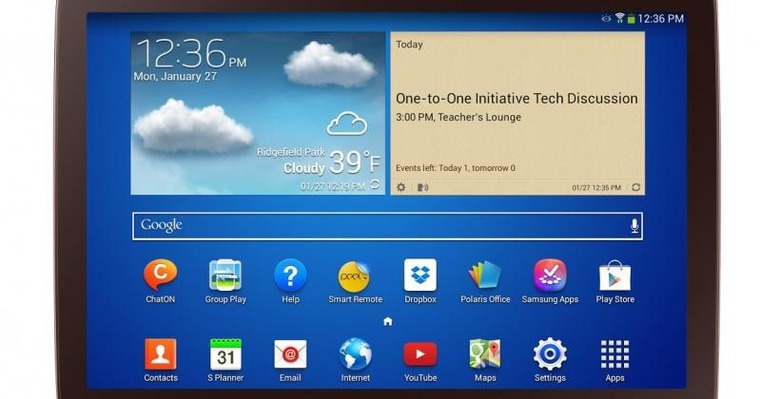 Samsung has announced an upcoming Galaxy Tab designed specifically for educational purposes, which will launch in time for the next academic school year and will bring with it integration with Google Play for Education. There's no word yet on pricing or a specific launch date, but Samsung says the tablet will be available to channel partners in April.
Called the Galaxy Tab for Education, this offering comes with a 10.1-inch WXGA display and a 16:9 aspect ratio, as well as 802.11 a/b/g/n WiFi and front/rear cameras. The software is Android 4.4 KitKat, and connectivity includes NFC for quick pairing with other devices in the classroom.
Samsung has been making a push into the educational market, and the Galaxy Tab for Education is set to complement some of its other related offerings, including Samsung School, its Chromebook, the maker's interactive whiteboards, and its various MFDs/printers. The Korean company is hawking its educational wares at FETC this week.
Said Samsung's Senior VP of Enterprise Business Division Ted Pike: "Samsung and Google for Education share a commitment to delivering innovative learning experiences to improve student outcomes. The new Galaxy Tab with Google Play for Education integration was created to specifically address the needs of today's schools and support our vision for powering education by empowering educators."
SOURCE: Business Wire