Samsung Galaxy Tab 2 7.0 Student Edition coming soon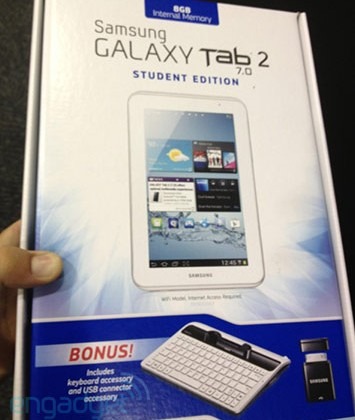 Everyone is scrambling to get their hands on the cheap and cheerful Nexus 7, starting at $199 for the 8GB model, but Samsung might be looking to entice customers with its own affordable wares in the near future. A tipster has sent in a picture to Engadget showing off a student edition of the Galaxy Tab 2 7.0. It's the same tablet that the company already sells, but Samsung will be throwing in a keyboard and USB adapter as part of the $249 package.
The new student edition bundle will reportedly go on sale on August 19th at Best Buy. Details of the tablet are otherwise the same, with specs including a dual-core 1Ghz processor, 1GB of RAM, a 1024x600 PLS screen, 8GB of storage, and a 3-megapixel camera. A front-facing VGA camera is also included, and those looking for more storage space can opt for microSD cards up to 64GB.
The whole shebang is also running on Ice Cream Sandwich, with work well underway on xda-developers for Jelly Bean ROMs. The tablet was only released a few short months ago as well, so we imagine Samsung will push out an update to the latest version of Android when it's made sure everything is good to go.
The included keyboard with the student edition should help with often messy affair of typing on a tablet, and the USB adapter will allow users to plug in any additional accessories, like mice or flash drives. It's certainly not a bad deal for $249, so pop into Best Buy on August 19th if this student edition sounds like a solid purchase.