Samsung: Galaxy S 4's app preload bloat is the price you pay for features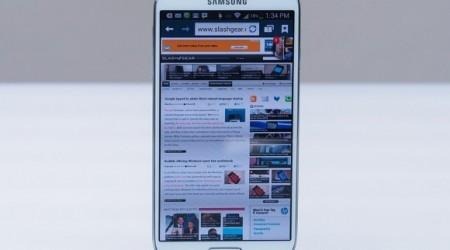 Samsung has defended the relative lack of user-available storage in the Galaxy S 4, arguing that the fact that the 16GB handset offers roughly half that amount as usable capacity is a welcome compromise given the usefulness of the preloaded apps. Users of the cheapest Galaxy S 4 were surprised to discover that, out of the box, a typical example of the smartphone had just 8.49GB of the billed 16GB available for use; Samsung says that's a side-effect of its "more powerful features" however.
"For the Galaxy S 4 16GB model, approximately 6.85GB occupies [the] system part of internal memory, which is 1GB bigger than that of the Galaxy S3, in order to provide high resolution display and more powerful features to our consumers" the company told CNET. "To offer the ultimate mobile experience to our users, Samsung provides [a] microSD slot on Galaxy S 4 for extension of memory."
Unlike with other high-profile devices, such as Apple's iPhone 5 and the more recent HTC One, owners of the Galaxy S 4 can choose to buy a cheaper, low-capacity version of the handset upfront and then add on storage at a later point. That's often a cheaper route than going for a higher-capacity model; a $100 difference between 16GB and 32GB tiers is commonplace.
However, while 64GB microSD cards are broadly available now – with a street price of around $54 – they don't offer quite the same flexibility as onboard storage. The Galaxy S 4 will use memory cards for keeping multimedia, such as purchased music or photos and videos taken with the smartphone's camera, but it will not allow applications to be installed to them.
Instead, if you want to install an app, that will have to be to the internal storage, which may prove limiting if you're a fan of the latest games with high-res graphics to make the most of the Galaxy S 4's Full HD display. There's more details in our full Galaxy S 4 review.