Samsung Galaxy Pocket Plus details surface, said to be launching soon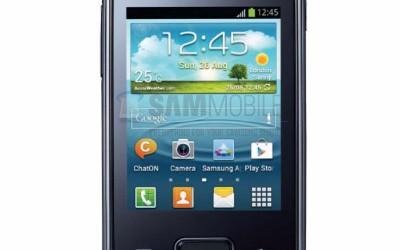 Rumors of new Samsung devices are commonplace in the smartphone world, but today we're getting details about a rumored Samsung phone that probably isn't going to turn as many heads as the Galaxy S III or the Galaxy Note II did. Regardless, say hello to the Galaxy Pocket Plus, which is rumored to be launching soon. Judging from the image below – which comes courtesy of SamMobile – the Galaxy Pocket Plus isn't going to be anywhere close to the high-end of the smartphone scale, but should prove to be a suitable device for those who want to snag a smartphone on the cheap.
Luckily enough, SamMobile's picture is accompanied by a number of details on the phone. We're hearing that the Galaxy Pocket Plus will come equipped with a Broadcom BCM21654 processor clocked at 850Mhz, a 1,200mAh battery, Bluetooth 3.0, and a 2MP camera. If you're taking a look at that picture and think the screen looks small, you're right on the money – that QVGA TFT display is only 2.8-inches in size.
We probably shouldn't be surprised by that, considering that Samsung has opted to include the word "Pocket" in the phone's name. Rest assured, this is probably going to be one tiny phone, so those who struggle with larger screens might find some value in this handset. This phone will reportedly be running Android 4.0.4 Ice Cream Sandwich behind a downgraded version of Samsung's TouchWiz interface.
The latest rumors say that Samsung is planning a European launch for this lil' guy in the first half of 2013, so it's a distinct possibility that we'll see it at MWC 2013 in Barcelona next month. Assuming Samsung is indeed shooting for a first half of 2013 launch for the device, it makes sense that Samsung would want to show it off at Mobile World Congress, which is where the device will have the best chance of getting some press attention. We'll be right there at MWC 2013 reporting live, so keep it tuned here to SlashGear for more.