Samsung Galaxy Note Edge sighted in Vietnam wearing gold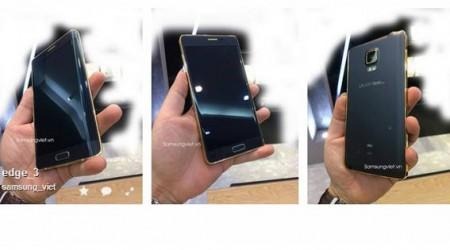 The Galaxy Note Edge is, to be blunt, a quirky smartphone. It has a screen that rolls of to the side but is actually a distinct screen on its own. It is definitely a device that says "special". To turn that voice into a scream, it seems that a shop in Vietnam will be offering a gold-plated version of the smartphone with a curved screen. Yes, the quirky device just became luxurious in this gold Galaxy Note Edge version that has come out of nowhere and still has to see the light of day.
Gold smartphones, whether in fake colors or actual 24k plating, are not exactly new in the industry. Almost all flagships have seen a variant. Even the Galaxy Note Edge's sibling, the Galaxy Note 4, got the gold treatment. And from Vietnam even. This time, it might have been a bit harder to pull off. That's because the right edge of the smartphone doesn't really conform to the usual flat shape and curves just a bit. Of course, it's not impossible to do, just unconventional, pretty much like the nature of this smarpthone itself.
Aside from that, there is practically no other difference between this and regular models, at least none that we know of yet. Aside from the gold-plated edges, and gold highlights on the camera and home buttons, it's pretty much the same. Even the faux leather back cover wasn't changed to shine. Admittedly, a gold cover might be a bit too much and too conspicuous, not to mention too tempting for thieves.
The vendor for this gold Galaxy Note Edge hasn't surfaced yet, so exact details are still unknown, especially the price. That said, the Galaxy Note 4 in the same 24k gold treatment sold for around $2,000 in Vietnam, so we can expect something similar, if not more, for this model.
VIA: Samsungviet