Samsung Galaxy Note 5, S6 edge+ get a photo shoot again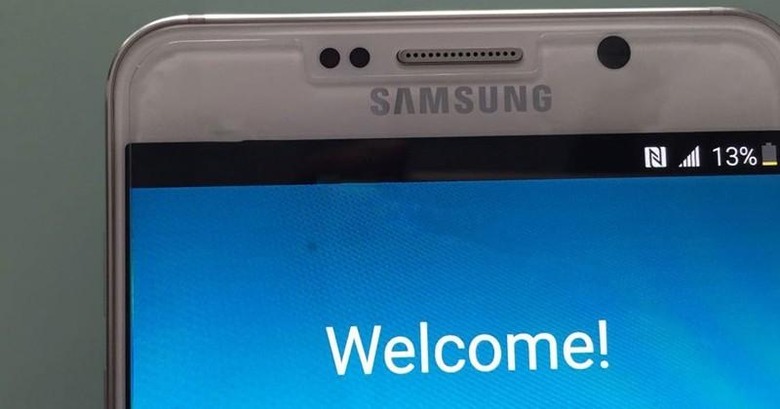 Ready for more unofficial Samsung love? By now, the Galaxy Note 5 and the Galaxy S6 edge+ phablets are probably one of Samsung's worst kept secrets, though we're also hoping to still be surprised when the Korean OEM unveils the two next month. Presuming, the rumored dates are correct, of course. These latest set of leaked photos show the two in full view and they are looking just as we expected them to. Which is to say, a larger version of the Galaxy S6 edge and an S Pen wielding version of the Galaxy S6.
Design-wise, there is nothing too different about the Galaxy S6 edge+, except for that now larger size. Whether that still plays in Samsung's favor remains to be seen. Part of the appeal of the Galaxy S6 edge was that the curved edges made it smooth to hold in one hand. The larger screen, however, might effectively cancel that advantage out. Internally, there is said to be some changes, like a switch to a Snapdragon 808, perhaps throwing Qualcomm a bone.
Here we also see a confirmation of the smartphone's model number, the SM-G928A, and how its name will be officially spelled, the Galaxy S6 edge+.
Not much can be said of the Galaxy Note 5 at this point. There are still varying and sometimes conflicting information about its CPU and RAM. Hardware specs aside, though, it is perhaps high time for Samsung to show some innovation in the S Pen area, which it has pioneered and continues to dominate.
Given the number of convincing clones and fakes around the net, especially of Samsung's devices, we'll take these still with a serving of salt. WIth barely half a month left, it won't be a long wait for the real thing anyway.
VIA: Mobile Fun Blog