Samsung Galaxy Note 2 available for preorder at Verizon and AT&T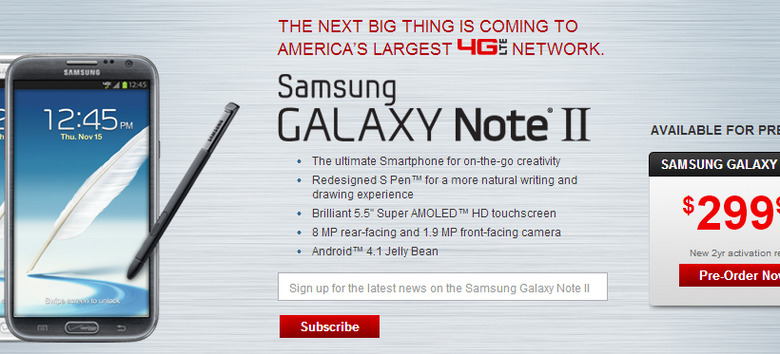 Samsung's much-anticipated behemoth, the Galaxy Note 2, is now available for pre-order from Verizon and AT&T. Verizon's website states that preorders will ship by November 27, while AT&T orders are scheduled to ship on November 6 for delivery on the 9th. The phone was launched earlier today at Samsung's Galaxy Note II World Tour 2012 NYC press event, where we got our hands on the giant Verizon-branded smartphone.
You can nab the Galaxy Note 2 for $299 with a 2-year contract from Verizon or AT&T. If you don't want a service contract, the price jumps to a pretty hefty $699.99 from Verizon, and $649.99 from AT&T. The device is available in white and titanium grey, and shipping is free. Verizon offers the largest 4G LTE network in the US.
The Galaxy Note 2 is one of a few phablets on the market, a venerable mixture of smartphone and tablet with the right dimensions to leave you forever wondering which device it better qualifies as. The 5.5-inch HD Super AMOLED display is its biggest feature, pun intended, but it also packs a wide variety of other high-end features, making its price tag suddenly seem a bit more reasonable. The smartphone includes the S Pen, which helps further solidify its feel as a miniature tablet.
Inside the Galaxy Note 2, you'll find a quad-core 1.6GHz Exynos processor, up to 16GB of storage space (with expansion up to 64GB), and 2GB of RAM. On the back is a high-quality 8MP camera with an LED flash, and on the front a 1.9MP camera for video calls. The camera can record video in 1080p, and has a 4x zoom. The Note 2 is rated for up to 15 hours of talk time and 12.5 days of standby time.