Samsung Galaxy Note 10.1 event hits NYC tomorrow: join us!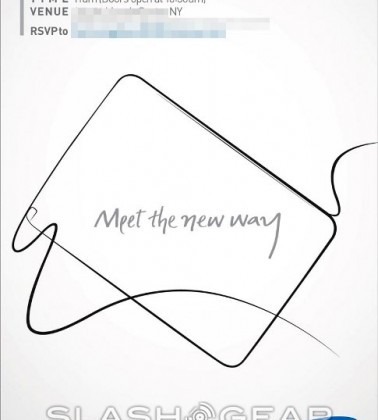 Samsung is holding an event tomorrow, August 15th, to showcase the next entry into its Galaxy Note series. The drawing on the invite suggests we'll be looking at something focused on using Samsung's S-Pen, promising that we'll "meet the new way". Rumors suggest that we could finally be seeing the Galaxy Note 10.1 tomorrow, and judging from the various reports and release dates from international retailers that we've seen lately, that seems like a safe bet.
Just yesterday, Samsung UK indicated that the Galaxy Note 10.1 would go on sale at its retail store in the Westfield Stratford shopping center, offering users a 10.1-inch tablet with a 1280x800 display, quad-core Exynos processor, 2GB of RAM, and stylus-enabled touchscreen. The S-Pen has reportedly seen some performance improvements too, with Samsung throwing in Adobe's Photoshop Touch app to aid drawing and doodling.
One report indicated that tomorrow may see the announcement of the Galaxy Note II instead, but the current information surrounding the successor to the popular phablet points to a reveal at Samsung's pre-IFA event on August 29th. Reports indicate that device will also feature a quad-core Exynos processor along with a larger 5.5-inch screen, although the resolution and aspect ratio may shift to 1280x720 and 16:9 respectively.
Whatever Samsung's mystery device turns out to be tomorrow, we'll fill you in on all the details. The event kicks off at 11am EST (8am PST), so keep it locked to SlashGear to keep up to date with Samsung's shenanigans.