Samsung Galaxy Centura Smartphone Destined For Straight Talk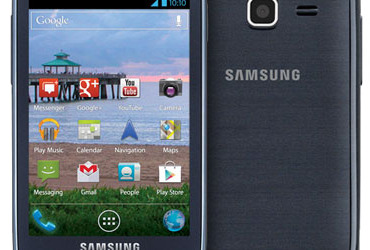 Samsung has quietly slipped a new smartphone into the market, this one destined for Straight Talk and bestowed with the Galaxy Centura name. The phone wasn't announced, instead appearing over on Samsung's website, where it currently sits without a price or launch date, but alongside a list of specifications that point to an all-around basic lower-end handset for those needing a (we're assuming) budget phone.
The handset is a small device with an equally-small 3-inch display with a resolution of 320 x 480. In case that doesn't tip you off, the rest of the specs are likewise nothing that will jump out at you, including its 800MHz MSM7625A Qualcomm processor and 512MB of RAM. There's 4GB of internal storage space, as well as a microSD card expansion slot with support for up to 32GB.
One of the specs' upsides is the addition of Bluetooth, which means users will be able to use wireless headsets when driving or in situations that demand it. The battery is also a decent 1,500mAh, which given the lower-end processor and small screen results in an appreciable standby charge time of 10 days and talk time of 7 hours – assuming the user doesn't run Bluetooth constantly, which will reduce those numbers.
There's a single camera around back with a 3-megapixel resolution and 3x digital zoom, as well as a few different image modes and the ability to record video. There's also GPS. The handset runs Android 4.0 Ice Cream Sandwich, and has the cell phone standards of speakerphone, voicemail, and such. There's no word on when it'll be available, but we'll update you when we know more.
[via Phonescoop]