Samsung Galaxy A30 and A50 bring S10 tech to midrange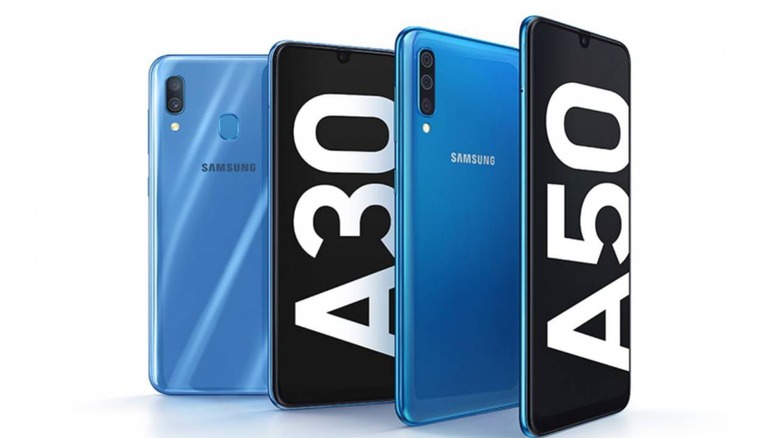 Not content to leave its February phone reveals at just four flagships and one high-end folding smartphone, Samsung has showed up at MWC 2019 with a pair of new devices in the Galaxy A line. Today, Samsung announced the Galaxy A30 and A50, two mid-range devices that seem to be primarily focused on mobile photography. To hear Samsung explain it, it sounds like the A30 and A50 are the first phones in a newly-relaunched Galaxy A series.
Like its more powerful Galaxy S10 brothers, the Galaxy A50 ships with a triple rear camera. The main lens in this set up clocks in at an impressive 25MP (F1.7), and it's helped along by an ultra wide lens and a depth lens. Around the front, we've got a 25MP (F2.0) selfie camera on the A50, which carves out a space for itself with a waterdrop notch instead of the cutout we see on the Galaxy S10.
The Galaxy A30, meanwhile, has a dual rear camera with a 16MP main lens and a 5MP ultra wide angle lens, along with a 16MP selfie camera on the front. The Super AMOLED displays on both phones are seemingly identical, coming in at 6.4-inches with FHD+ resolution (1080x2340).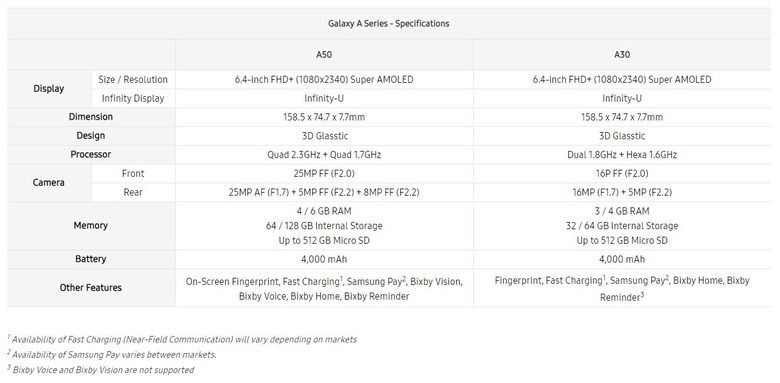 You can see complete (or at least mostly complete) specifications for both phones in the table above. It's worth noting that it seems both the A50 and the A30 will be available in two different configurations each. On the A30, you'll have your choice of 3 or 4GB of RAM, along with 32 or 64GB of storage. On the A50, we'll see models that offer 4GB/64GB and 6GB/128GB – not too bad for a phone that's only supposed to be a mid-range device.
Both phones come with a 4,000mAh battery, and it sounds like you'll probably get more mileage out of that on the less powerful A30. The A50 also supports on-screen fingerprint, which is something we didn't expect to see outside of the Galaxy S10 so soon. There aren't any details on pricing or release yet, but don't be too surprised if the A50 in particular ends up costing a little more than the A-series phones that came before it. Stay tuned for more on these devices, and for more coverage from MWC 2019.