Samsung Focus Review
Samsung may not be able to compete with the sheer number of Windows Phone 7 devices HTC has brought to the table, but the company has definitely put its best foot forward with the Samsung Focus. Headed to AT&T in the US and Rogers Wireless in Canada, the Focus uses Samsung's own Super AMOLED display technology in a slimline, pocket-friendly chassis. Is it – and Microsoft's new smartphone OS – good enough to see off established challengers like Android and iPhone 4? Check out the full SlashGear review after the cut.Hardware
Microsoft's restriction on hardware and software has left the company's opening range looking pretty homogenized, and manufacturers have struggled to stand out of the crowd. Samsung's attempt is perhaps the most eye-catching: the Focus uses the same 4-inch WVGA Super AMOLED capacitive touchscreen display as on the Galaxy S family of devices, and it remains an incredible panel. Inside, though, where the Galaxy S use Samsung's own 1GHz Hummingbird processor, Microsoft has mandated Windows Phone 7 devices should use rival Qualcomm's 1GHz Snapdragon QSD8250.
Otherwise features are much as we've seen on other Windows Phone 7 devices, so you get HSDPA, a 5-megapixel autofocus camera with LED flash, Bluetooth, WiFi, GPS and a 3.5mm headphone jack. Onboard storage is 8GB, but Samsung has also added a user-accessible microSD card slot. Unlike memory card readers on other platforms, the Focus doesn't support hot-swapping; in fact, once you put the card in and hard-reset the handset, Windows Phone 7 incorporates its capacity into the core of the device. For that reason, an engineer told us to only use fast microSD cards, so as to avoid speed bottlenecks. Nonetheless, it's one way to get 40GB of storage in a Windows Phone 7 device.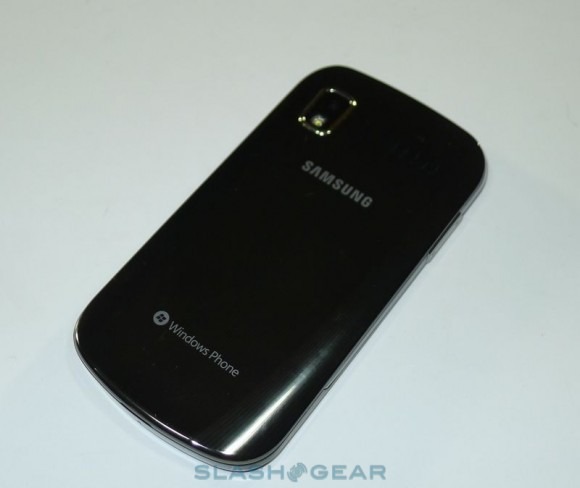 Unlike the metal of some of HTC's line-up, the Focus is mostly plastic; however it's creak-free and feels solid. It's also subtle in its design, without the stylized moldings of, say, the Mozart. The usual array of controls are present, with volume on the left-hand side and a camera shortcut on the right, power/standby on top and three touch-sensitive buttons – back, Start and search – running underneath the display. A microUSB port handles recharging and synchronizing.
Software
We've covered Windows Phone 7's core functionality at depth in our Technical Preview, so won't retread too much old ground; we'd recommend reading that for a better understanding of the Microsoft OS as a software experience. We've also reviewed the AT&T HTC Surround and Orange HTC 7 Mozart, and we'd also recommend reading those reviews for other Windows Phone 7 details.
In use, the Focus is swift and satisfying, with menus, dialogs and apps all loading and transitioning quickly. Microsoft has made good use of animation, with menus bouncing and compressing slightly as they reach the end of lists, and text pivots in and out of focus beautifully. It's distinctive and fresh, and makes rival platforms look positively over-worked, but the transitions never get in the way of actual usability.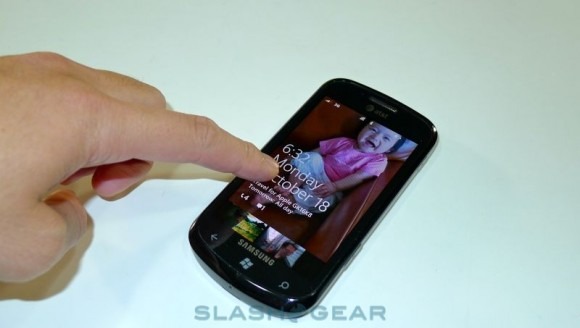 Similarly, Microsoft is taking a hardline approach to consistency; the top four tiles – phone, people, messaging and email – are standard, followed by four carrier/OEM tiles, then IE and Xbox Live. OEMs and operators are limited to six preinstalled apps, which can be removed but which will return after a hard-reset, and users can pin playlists, people and other shortcuts to the homescreen. Each tile has some sort of notification built in, whether unread message counts, missed calls or previewing Facebook/Twitter updates for individuals. Third-party app notifications are up to the developer themselves. Meanwhile the default on-screen keyboards – with full QWERTY available in portrait and landscape orientation – are locked, with no third-party keyboard support at present. Auto-correction and prediction is good but not quite to the levels of prescience Apple manage on the iPhone.
Since it's a very visual approach, we've broken down the main functionality – browser, email, media, Windows Phone Market, third-party apps and more – into two comprehensive overview videos, which you can see below.
Samsung Focus Windows Phone 7 Walkthrough Part 1
[vms 50b25b4114e93a98f1eb]
Samsung Focus Windows Phone 7 Walkthrough Part 2
[vms 8b187f7182f1b9ce7a6a]
Camera
The Focus' 5-megapixel cameras isn't the highest resolution on a Windows Phone 7 device, and nor does it have the Xenon flash of the HTC 7 Mozart, but it's still a decent performer. As well as stills it records 720p HD video; our biggest complaint, though, is the absence of any way to share those video clips beyond synchronizing them with the desktop. Unlike photos, which have a Share option in the contextual menu, and which can be attached to emails or MMS messages, at present videos are stuck on the Focus until you're next home.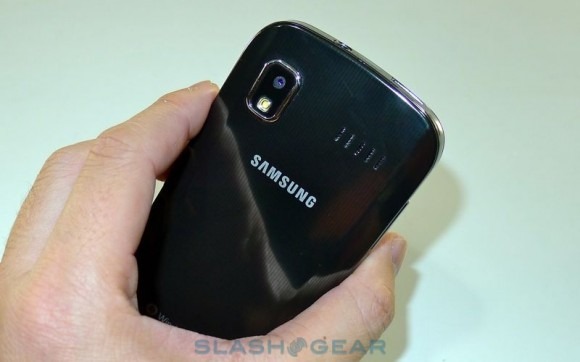 Sample video
[vms 246bb0d40eb4d8027d90]
LIke other cellphone cameras we've tested, the Focus' video abilities can show some judder when filming fast-moving objects or during sharp pans, but otherwise detail and color balance is reasonable. Still shots, meanwhile, have a good amount of detail for a 5-megapixel camera, and best the results from the HTC Windows Phone 7 devices we've been testing. There are a range of settings including multiple shooting modes – Auto, Portrait, Landscape, Sports, Beach, Backlight, Candlelight and Macro – together with various effects – Grayscale, Negative, Sepia and Solarize – plus flicker adjustment, a choice of metering – center, average or spot – and flash on/off/auto.
Browser
The Windows Phone 7 browser is built on the IE7 engine and javascript/performance work done for IE8. The end result is quick to render but also handles navigation mid-download well; if you zoom in – using pinch-zoom or double-tapping, the latter also offering text-reflowing – and click on a link, the page-load will abort and prioritize loading the next link. There's no in-page Flash support, at this stage at least, though Microsoft has said it's on the roadmap. We had no problems loading even complex pages without crashes.
Messaging and Social Networking
Messaging on Windows Phone 7 includes SMS, MMS and email, with a wide variety of the latter supported. Obviously there's Windows Live and Exchange (with push email support) and you can register your accounts during setup or skip it and return to them later. A Windows Live ID is only required for certain functionality, too; if you don't want to use the Windows Phone Marketplace, for instance, you don't need a Live ID. On top of those options there's Google and Yahoo! mail, together with Facebook, and then generic POP and IMAP accounts.
Each email account gets its own homescreen tile with a separate inbox count, though you can also view a combined inbox pulling together messages from each. The messaging app is one of the best experiences in Windows Phone 7, and a significant improvement on Windows Mobile 6.x. HTML messages are supported, and multi-message deletion is easy: simply tap to the left of a message and check-boxes slide into view. Emails open quickly, and the simple black and white color scheme – with orange subject lines to show unread messages – is reasonably easy to read outdoors.
Register a Facebook account, and the People tile will pull in information from your friends on the social networking site and flag up any recent updates in a timeline. You can comment on or "like" those updates, or post your own update by tapping on the profile photo that Windows Phone 7 pulls down. We've also been trying a beta of Twitter app Seesmic, which works well and handles multiple accounts, but – like we've found with RSS readers on Windows Phone 7 – seems to lack caching and, as such, needs to pull in all old messages on every load. It's time-consuming and frustrating when you want to quickly check for any new updates.
Maps and Navigation
Google Maps unsurprisingly has no place in Windows Phone 7, with Microsoft's own Bing Maps taking center stage. The app can show you regular or aerial photo views, together with driving or pedestrian navigation instructions. Turn-by-turn spoken guidance – as you'd get on Android – is absent, and the directions themselves are simple, step-by-step prompts with no recalculation if you sway off course. AT&T preload their own Navigation service on the Focus, but there's no integration between Bing Maps and their app, and it refuses to run in the background. It's also worth noting that there's no landscape orientation support in the mapping app, only portrait. Since the OS currently lacks copy/paste functionality, Microsoft has been making much of its deep hyperlinking of things like addresses; that works well in contacts, but you're out of luck if someone emails you their location since the Focus proved unable to pull that information out and link you to Bing Maps.
Copy and Paste
We did have an opportunity to see Microsoft's intentions for copy/paste, with hyperlinks selected by press-and-hold, while tapping an individual word triggers selection handles and a small palette of controls. If there is content in the clipboard then tapping a text entry field automatically offers paste. When Microsoft does eventually roll it out, it will be on offer for third-party apps as well as all core Windows Phone 7 software.
Windows Phone Marketplace and Zune
Those third-party apps will come via the Windows Phone Marketplace, unsurprisingly in a fledgling state at present given the relative youth of the OS. Microsoft will be initially limiting access to 2,000 or so developers it has worked with previously, at least for the first few weeks, though they've seen half a million downloads of their Windows Phone 7 developer toolkit. Retail apps will be available from October 21st – the European Windows Phone 7 launch – with pre-purchase trials available. Subsequent purchases of trials will unlock the existing download, too, rather than users be required to re-download the app. All Xbox games will be available as trials; there's more detail on the Marketplace in the video overview further up the page.
As well as software, the Marketplace will include music and videos, and indeed Microsoft are placing a far stronger focus on multimedia in Windows Phone 7 than they ever did in Windows Mobile. The company is using its Zune desktop manager app to manage the new smartphones, just as it does the company's Zune range of PMPs. Currently it's PC-only, but we've been testing a beta version of the Mac Zune client and it works well, being most reminiscent of iTunes on the Mac. You can sync one Windows Phone 7 handset with more than one computer, too.
The Zune app is used for multimedia organization – including Zune Pass control, if you subscribe to Microsoft's all-you-can-eat music service – as well as software updates. Notifications of updates are sent as OTA messages, but the update itself is installed via a direct USB connection (after an automatic device backup is made). There's also WiFi sync, something iPhone owners have been asking for repeatedly; after the first USB sync, you can choose to update the Focus' content wirelessly, with the Zune app automatically loading if it isn't already running.
Phone and Battery
The abilities of the OS wouldn't really matter much if the Focus didn't hold its own as a phone, but happily that's not a problem. Voice calls were clear and crisp, with the speakerphone being reasonably loud and Bluetooth supporting mono and stereo headset use. As for battery life, with some serious use – push email turned on, both WiFi and Bluetooth active, multiple calls and plenty of GPS and browsing – we managed to drain the Focus in a little over 6 hours. That's atypical use, however; normal users shouldn't have a problem getting through a regular day on a single charge.
Wrap-Up
There are obviously some features still missing, more from Windows Phone 7 than from Samsung's Focus. Copy/Paste is an obvious one, which Microsoft has already committed to changing, and the inability to share recorded video beyond synchronizing it with the desktop Zune client. Perhaps more controversial is the absence of universal search, something Microsoft tells us they don't believe people actually want or use. There's also no local sync of contacts and email, only via the cloud, nor native DLNA streaming support.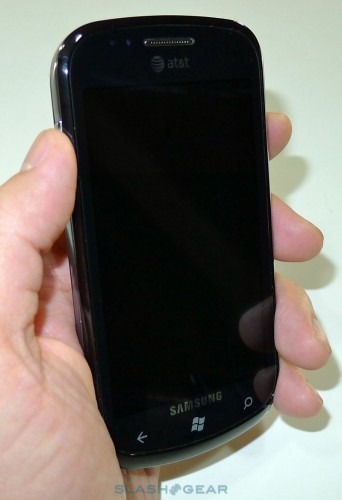 Still, it's early days for the platform, and the overall impression is very good – both of Windows Phone 7 and of the AT&T Samsung Focus. Microsoft has come in for criticism over its newly strict controls for OEMs and developers, but it's allowed them to create a tightly-integrated, elegant and distinctive OS that offers a legitimate alternative to iOS and Android. The target audience, in the platform's current form, seems to be average users perhaps looking to make their first upgrade from a feature-phone. The simple homescreen structure and general consistency are at odds, in many ways, with Android's geeky appeal to tech-savvy consumers, while Windows Phone 7 obviously lags behind iPhone 4 in terms of features. Give it three or four more iterations, though, and we'd expect Microsoft to have caught up; still, there's no telling where iOS will be by that point.
As for the Focus itself, that stands out as one of the more noteworthy models in the first wave of devices, with the Super AMOLED display making daily use – especially for media playback – significantly more pleasant than on regular LCD alternatives. The coming months will deliver a greater choice of form-factors and, we're guessing, firmware updates that tighten up the inevitable launch bugs, but for the moment the Samsung Focus might well be the best Windows Phone 7 device in the North American market.