Samsung Focus is an all-in-one productivity app for Android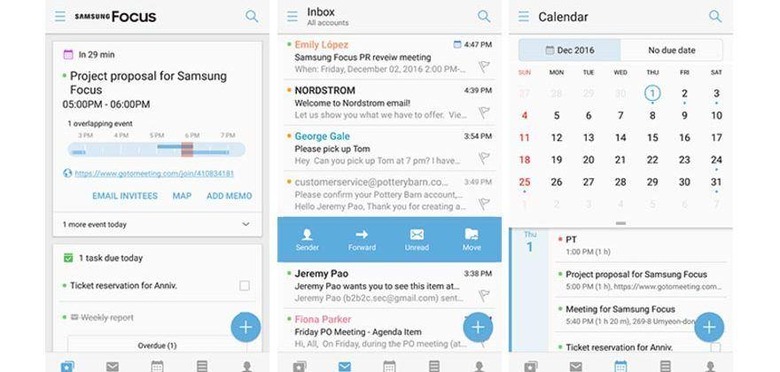 Samsung has announced what it calls an all-in-one productivity app, Samsung Focus. This app brings together all the things you'd normally consider part of a productive workday: your email, memos, phone contacts, and calendar, namely. Samsung Focus features a tabbed interface and serves as a single destination in which to access these items, including multiple email accounts. Users can even select specific keywords around which notifications will revolve.
Samsung Focus is available for Android devices running Android version 6.0.1 Marshmallow or later, and can be downloaded from the Google Play Store now. Once you install it, you'll be able to set up all your work accounts, memos and such within it. Users can specifie specific keywords to ensure they get notifications when a message arrives containing those words — "important," for example, will make sure you're notified about any email containing that word.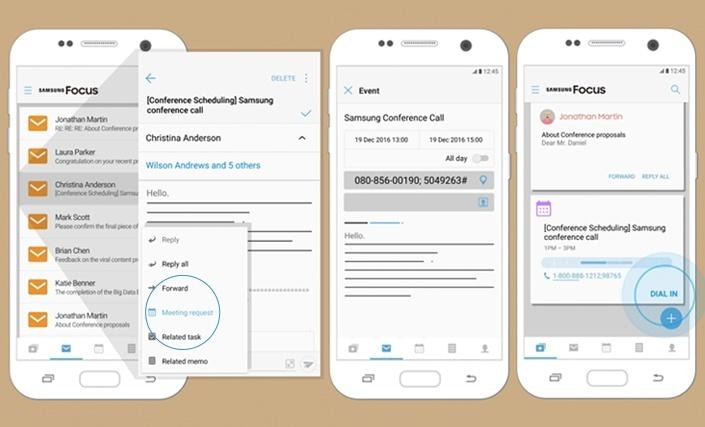 There's a Focus tab in which the most important notifications are summarized — this is done utilizing a card-like UX, says Samsung. Users are given a great deal of customization control over the app, while the app concentrates on sending reminders, suggesting actions, and other productivity-related things.
In addition to the keyword feature, there's priority senders for getting alerts when an email comes in from someone important, tools for simply arranging conference calls including dialing someone, and access to a history tab for quickly scrolling through past meetings, appointments, and email.
SOURCE: Samsung