Samsung F9000 UHD 4K TV series pricing and pre-order date unveiled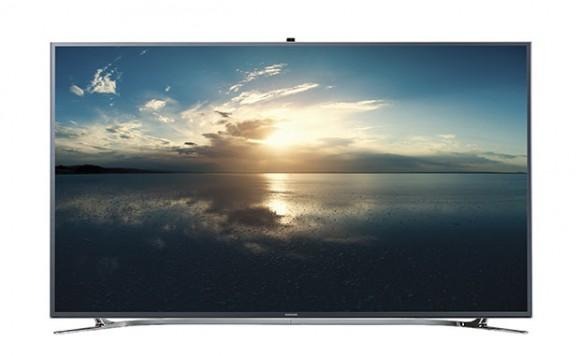 Samsung has unveiled the pricing and pre-order date for its Ultra High-Definition 4K TV F9000 series line of devices, which will start at $5,499 and will be available to pre-order on July 21. This follows in line with its S9 ultra high-definition TVs the Korean maker showed off earlier in 2013, and includes technology that will allow it to be compatible with new UHD standards that will come in the future.
The F9000 line of UHD 4K TVs will be available in 55-inch and 65-inch sizes, with the former having an estimated price of $5,499 and the latter at $7,499. Pre-ordering will go live on July 21 from "select authorized retailers" in the United States, while shipping is expected to begin at an unspecified date in early August.
Both of the models run on Samsung's Quadmatic Picture Engine, which utilizes a four-step process for delivering images, which is comprised of noise minimization, upscaling to 4K, image enhancement of less-than-4K content, and signal analysis. The upscale conversion takes place for standard-definition content all the way up through full 1080p video feeds. As mentioned, there's also compatibility with future 4K standards via the Evolution Kit.
The F9000 series features 2.2 channels of 2-way 70watt sound, an Ultra Slim Bezel, and Precision Black Local Dimming technology. The latter feature boosts black levels (as well as constrast) by dimming the darker areas of a picture selectively while leaving the lighter portions alone. There's also a feature called Micro Dimming Ultimate, which works to enhance the contrast and sharpen the video feed.
As far as software goes, the F9000 TVs feature Samsung's Smart TV with the Smart Hub interface, allowing for the use of apps, social networks, and more.
Samsung America's Executive VP Joe Stinziano said: "Revolutionizing the home entertainment viewing experience is a hallmark of the Samsung brand. The F9000 series are Evolutionary TVs that will give consumers great peace of mind in their entertainment investment. Now home entertainment lovers will have the opportunity to truly see and enjoy their favorite shows and movies like never before, in crystal-clear ultra high-definition, and in the beautifully designed 55- and 65-inch sizes they demand."
SOURCE: BusinessWire