Samsung enhances edge screen with Marshmallow 6.0 upgrade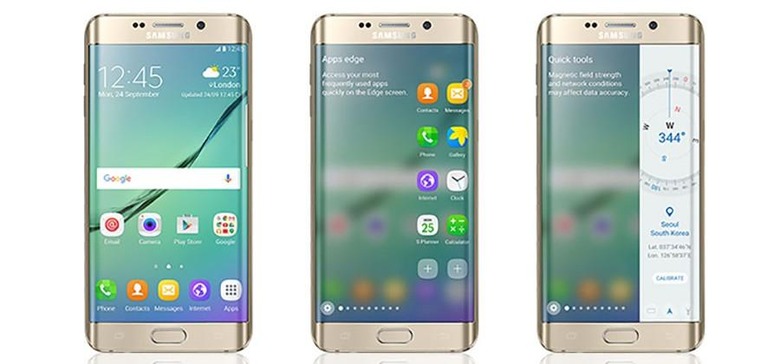 Samsung has rolled out an enhancement for the screen for edge device users that make it more useful. The update promises to make it faster and easier to get the information you need and perform tasks using the swipe and tap motion on the edge of the screen. Changes to the edge screen come thanks to the Android 6.0 upgrade that has begun rolling out and allows widening of the edge content to 550 pixels.
Originally, the edge screen content could only be 260 pixels wide limiting what could be shown there. Edge users can also now customize up to nine panels including People edge and Apps edge panels. People edge allows users to arrange favorite contacts in the area for easy access with small photo icons that link to contact profiles and the update adds names below the little photos. A shortcut to the settings menu is now included as well.
Apps edge has been updated and now allows user to place ten apps, doubling the amount of favorite apps that can be placed in the location. Users can also add entire folders for organization. Tasks edge is a new panel that adds shortcuts to app features and tasks has been added. The Android 6.0 Marshmallow update that brings these updates is now available for Galaxy S6 and S6 edge devices with the rollout starting today.
Other Galaxy devices will be getting the Android 6.0 update as well, but Samsung isn't clear on when the rollout for other devices will happen. All Samsung says about a timeframe for devices other than the S6 family is "soon." Samsung will make announcements of the upgrade schedule for each market and carrier at a later date. It's unclear is the Marshmallow update starting February 15 is for the US only at this time.