Samsung dual-screen folding phone patent takes on the Microsoft Surface Duo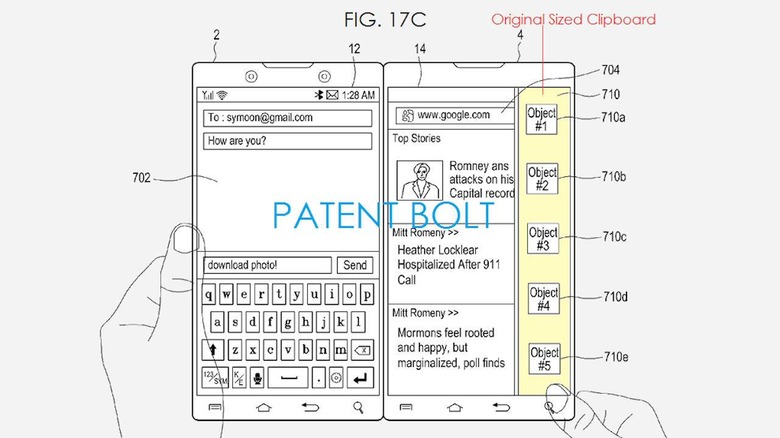 Foldable phones, ones with actual flexible and folding screens, are slowly becoming a dream come true for phone makers and tech pundits. Consumers, however, are still on the fence on the drawbacks of such experimental devices. The announcement of the Microsoft Surface Duo, not to mention the launch of the LG G8X ThinQ Dual Screen, seems to have struck a chord with more practical users and, unsurprisingly, Samsung may have a solution for that as well.
To be clear, Samsung filed for this dual display patent way back in 2013 but, as Patently Mobile points out, was only granted by the US Patent and Trademark Office last month. The timing couldn't be more perfect, or more suspect, considering Microsoft also just recently revealed its two dual-screen devices that are still coming in 2020.
Back then, Samsung's patent may have looked either crazy or innovative, or even both, but thanks to the LG G8X, it may sound less than that now. The device presented in the patent seems to be a single device rather than a phone with a case. The bezel between two halves seem almost impossibly by 2013 standards but are almost commonplace today.
Of course, the patent simply covers Samsung's legal bases but it would be at an advantage if it does make such a phone. More than any other Android manufacturer, its One UI is already geared towards different screen configurations and its Wacom-powered S Pen is already proven on mobile devices while Microsoft's N-Trig has yet to be made compatible with Android.
Microsoft itself was granted a patent for a similar dual-screen device last month but the two are subtly different, which means they may be able to avoid patent disputes. Microsoft's patent doesn't cover a smartphone specifically and can be used for both the Surface Duo and the Windows 10X Surface Neo.