Samsung debuts Low Cost DID Panel Digital Signage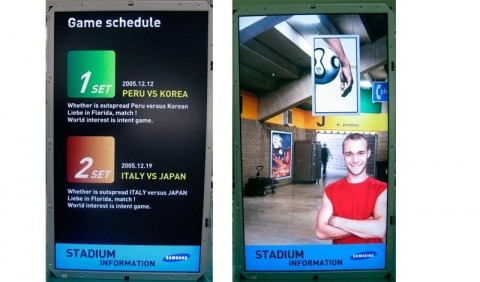 Samsung have announced mass production of a cheaper LCD panel, however it won't make much difference to the HDTVs on offer at your local Best Buy.  The economical LCD panel is built upon the company's new Basic Digital Information Display (B-DID) technology, and is intended exclusively for digital signage, advertising and information boards.
The new DID displays will be available in 32-inch, 40-inch and 52-inch sizes, and are configurable in either landscape or portrait orientation. According to Samsung, their low-end LCD range is capable of high quality images but is still more cost-effective compared to consumer LCD TVs. That makes it more suitable for commercial displays in smaller businesses and chain stores, where the expected use patterns are more limited than a consumer might demand.
Samsung will begin shipping the new B-DID digital signage next month, with each panel including an 18-month warranty.
[edit: more information of the new B-DID panels are listed below]
Resolution : 1920x1080
Viewing Angle : Minimum 75 & Maximum 90 degrees
Brightness : 500 nits
Color : 72 percent of color gamut
40-inch : 23.4mm(L/R) / 30.15mm(U/D)
46-inch : 24.3mm(L/R) / 29.20mm(U/D)
San Jose, CA – March 17, 2009: Samsung Electronics Co., Ltd., the world's largest provider of thin-film transistor, liquid crystal displays (TFT-LCDs), today announced that it has begun mass producing a more economical line of digital information displays for indoor applications, where round-the-clock use isn't needed.

Pointing to a large range of retail, food outlets, schools, museums and other locales where 24-hour operation is not needed, Samsung said it's new Basic Digital Information Displays (B-DID) will considerably widen the market for digital displays around the world.

"Outlets that do not require around the clock use of digital information displays, can now get the quality of a high-grade promotional or advertising display, at a highly affordable price," said Scott Birnbaum, vice president, LCD group, Samsung Digital Solutions business. "More and more companies are realizing that digital information displays are not simply TVs in a commercialized venue, but rather advanced electronic signage needed by smaller businesses and chain stores where limited usage is required."

Samsung's new high-quality, low-end LCD line is cost-competitive with consumer television, yet features a design specifically suited for commercial applications. It will begin shipping next month.

Unlike traditional TVs, the displays are designed to be mounted in either landscape or portrait configurations. The new Samsung line is available in 32-inch, 40-inch, 46-inch and 52-inch sizes and comes with an 18-month warranty.

Boasting a contrast ratio of between 3000:1 and 4000:1 the new line makes use of liquid crystal technology better than that used today for digital televisions. The advanced technology makes the displays more reliable for extended use, and its heat resistant characteristics permit better heat management.

In the United States, Samsung B-DIDs can be obtained directly from Samsung or through one of several distributors. For more information contact Dan Machamer at d.machamer@ssi.samsung.com