Samsung, de GRISOGONO to make a luxurious Gear S2 smartwatch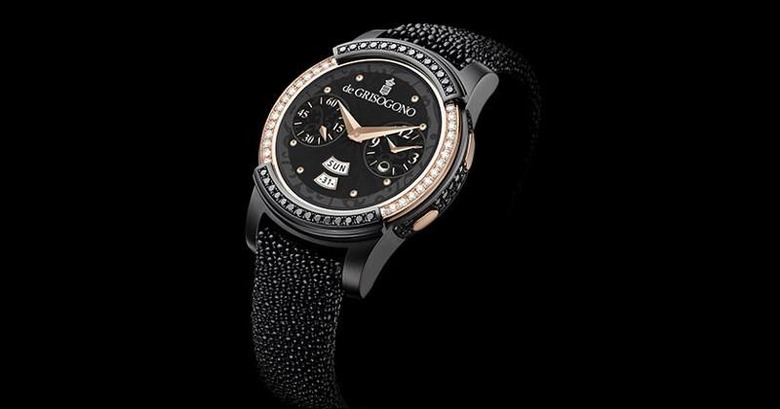 We may receive a commission on purchases made from links.
If you thought that Samsung is over its jewelry obsession, better think again. It may have curiously skipped Swarovski this time around, but this diamond-laden smartwatch isn't going to be less luxurious. Or expensive for that matter. This time, Samsung has partnered with famed jewelry and watchmaker de GRISOGONO to co-create, not merely co-brand, Samsung insists, a special, limited-edition Samsung Gear S2. Naturally, this is more a fashion statement than a simple smartwatch, blending the latest in wearable technology with some of the most luxurious materials and stones in the fashion world.
It is impossible to mistake this Gear S2 edition as simple fancy gadget. The 41 mm case of the smartwatch alone is made of that premium looking and much coveted rose gold with 56 white diamonds, paired with a black DLC-coated stainless steel set with 71 black diamonds. The strap is also no ordinary strap, bearing de GRISOGONO's signature galuchat skin.
Despite the facade, the timepiece is a Tizen-powered smartwatch through and through. That means all the apps and smartphone connectivity that you can get. To match its bedazzling materials, Samsung and de GRISOGONO are also putting two digital watchfaces to give the Gear S2 a semblance of a traditional luxury watch.
Like a normal Gear S2, the diamond-set gold bezel can also be turned like a dial, accessing functions and screens for notification, health, and the like. It will be interesting to hear from buyers of this particular smartwatch how well those diamonds on the ring stand the test of time and use. Curiously, unlike a normal Gear S2, this one doesn't bear the 3G connectivity that was the hallmark of the Gear S "solo" smartwatch line.
The Samsung Gear S2 by de GRISOGONO will first appear publicly at Baselworld 2016 this week until next. It will launch sometime in summer and will be available from both Samsung and de GRISOGONO's retail channels. Prices are, unsurprisingly, undisclosed.
SOURCE: Samsung