Samsung D9500 is 75-inches of Smart TV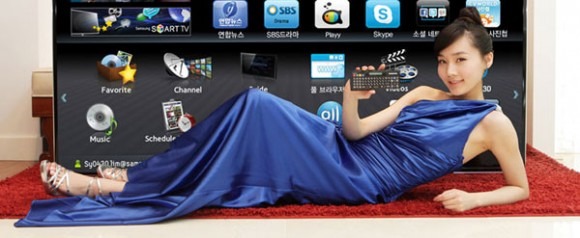 Samsung has bet big on Smart TVs as a way to lure in more customers to buy its wares. I'm not sure how well that bet is paying off right now with sales of TVs slumping this year so far. Samsung has pulled out a new TV with a gigantic screen that would be great for watching your favorite movies and streaming content from the web. The TV is called the Samsung D9500 and it has launched in Korea to start with.
The TV has all sorts of cool features like a black diamond panel. The 75" screen is also 3D capable and would make a very nice 3D TV for your media room on home theater. The Smart TV can surf the web using the QWERTY keyboard packing remote control and the set has a 240Hz refresh rate. Samsung says that the TV is the largest 3D screen in the world for LCD TVs.
The screen is LED backlit and it has a lot of other tech inside that Samsung is keeping quiet. There is no mention of the price at this point. Considering that the high-end 50-55" 3D TVs from Samsung can run over $3,000 this will be a very expensive TV indeed. It is only offered in Korea for now.
[via Akihabara News]