Samsung D520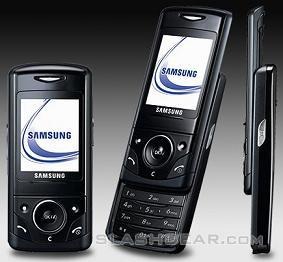 Samsung has launched the new slim SGH-D520. A masterpiece in design, the tri-band D520 is slimmed and trimmed with all of today's latest features. This model defines sophistication, uniqueness, and style for the student, worker, modernist, and the music appreciator in you.
The slim and trim D520 is a smooth slide-up with captivating contour-edge design and compact casing. Easy to grip and to operate, the D520 measures in at just 101 x 46 x 15.9mm and weighs a mere 93g for mobility with style. Discreetly slip away the slim mobile solution in your jean pocket or shirt pocket to carry around anywhere and anytime.
The gentle super-smooth slide mechanism gives users access to an array of multimedia functions and business applications. Tucked away underneath the D520 are advanced mobile functions that fits the digital lifestyle of today's consumers. Take stunning snapshots using the 1.3 megapixel camera and showcase it on the beautiful 262k colour screen. Do not miss a beat of the latest tune as the D520 with Bluetooth stereo support become your music companion. Also, store and transfer up to 80MB of important documents with internal memory and USB connectivity to get business done whenever and wherever.