Samsung Chromebox pricing and specs leak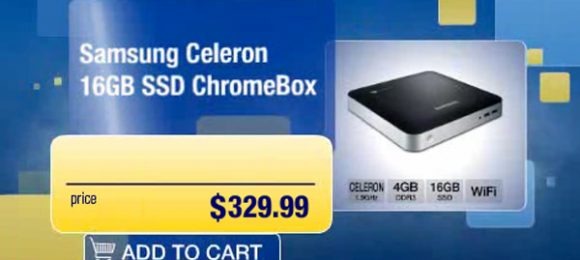 Pricing and other specs have leaked on Samsung's Chromebox, which the company has remained quiet on since its debut back at CES. The mini desktop computer running Google's Chrome OS is set to come out sometime this year and now thanks to TigerDirect's product listing, we know that the Chromebox will be priced at $330.
The Chromebox has a footprint of only 7.5-inches square, reminiscent of a Mac Mini. The configuration that leaked on TigerDirect features a 1.9GHz dual-core Celeron B840 processor, 4G of DDR3 memory, 16GB of SSD storage, and six USB ports.
From our hands-on with the Samsung Chromebox back at CES, we know that the device also comes with a DVI port, Ethernet, two Display Link ports, headphone jack, and a power jack. It's also expected to have wireless keyboard and mouse accessories bundled with it.
The TigerDirect product listing has since been pulled. Official new details on the Chromebox will likely be announced at Google I/O in June.
[via Engadget]