Samsung bundles free Watch Dogs 2 with select SSDs and curved monitors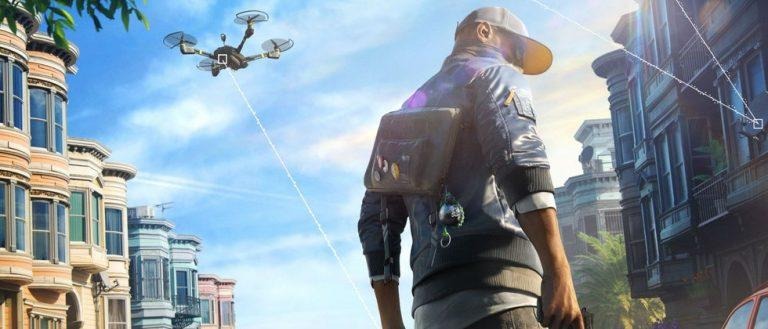 We're a few weeks out from the release of Watch Dogs 2, and if you've had your eye on it, you might like to know that Samsung has launched new hardware bundles that include a free copy of the game. These bundles feature a range of Samsung solid-state drives and some of the company's newer curved gaming monitors. So, if you've been in the market for some new PC hardware, you might want to give these bundles a look.
There are seven SSDs in total that qualify for this promotion, along with three gaming monitors. It should be noted that the promotion terms require that you purchase an SSD with 500GB or more in storage. Just as well, this promotion only covers the PC version of Watch Dogs 2, which will be launch a bit later than its console counterparts and arriving on November 29.
So, even though the promotion begins today, you'll have to wait a little while until you can snag that copy of Watch Dogs 2. The deal will run through December 31, 2016 or until supplies run out, and Samsung says you'll be able to take advantage of the offer at a variety of retailers or through its own online store. Here's the full list of qualifying hardware:
· 960 PRO SSD (512GB, 1TB, 2TB)

· 960 EVO SSD (500GB, 1TB)

· 850 PRO SSD (512GB, 1TB, 2TB)

· 850 EVO SSD (500GB, 1TB, 2TB, 4TB)

· 850 EVO M.2 SSD (500GB, 1TB)

· 850 EVO mSATA SSD (500GB, 1TB)

· Portable SSD T3 (500GB, 1TB, 2TB)

· Samsung CFG70 Curved Gaming Monitor (24-inch)

· Samsung CFG70 Curved Gaming Monitor (27-inch)

· Samsung CF791 Curved Monitor (34-inch)
Watch Dogs 2 serves as the sequel to 2014's successful (yet somewhat polarizing) Watch Dogs. Players will be stepping into the shoes of a new antagonist this time around, with Marcus Holloway taking the place of Aiden Pearce as the game's main character. Ubisoft says that Watch Dogs 2's in-game San Francisco will be twice as large as the world from the first game, and that there will multiple ways for players to complete objectives.READ MORE: Samsung CFG70 and CF791 first impressionsA little while back, we got to spend some time with both varieties of the CFG70 and the CF791. All three models come with support for AMD Freesync, with the 34-inch CF791 being particularly impressive from both a hardware and design standpoint. Regardless of the model you choose, all three seem to be well equipped for gaming, though the CFG70 models will be little easier on the wallet.
This doesn't seem like too bad a promotion assuming you've been thinking about picking up a new monitor or SSD. If you've already been considering new hardware, then a free copy of Watch Dogs 2 will merely serve as icing on the cake. More information can be found via the source link below, while you'll be able to redeem your free copy of the game at www.watchdogs.com/samsung.
SOURCE: Samsung