Samsung Blue Earth to Feature First Paper SIM Card

If you're curious as to how companies all over the world are forging ahead in the endeavor to save our environment, here's something to take note of. The Portuguese carrier TMN has decided to utilize one eco-friendly device with their latest plan: paper SIM cards. A small detail in some people's eyes, but as the company points out, the SIM card (along with the card you punch it out of, and subsequently discard) is manufactured from petroleum-based plastics, and therefore something to consider.
The wireless carrier has teamed up with international suppliers Incard and Toppan to distribute the recycled paper SIM cards, which are currently planned for other devices in the future, but is currently only available in Samsung's eco-friendly Blue Earth handset. We told you about that handset over a year ago, and it still features the same solar panel on the back of the device, along with WiFi, GPS, and a 3.2MP camera on the back.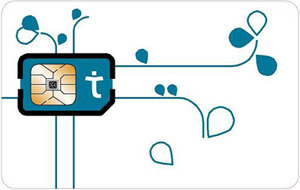 It's good to see companies think about the smallest of things when it comes to the larger picture, especially when it's coupled with another device that's specifically manufactured for the same purpose. The device is available in Portugal for now, and it costs €239 (or about $318).
[via sapo.pt]