Samsung+ app gets live support chat, remote control features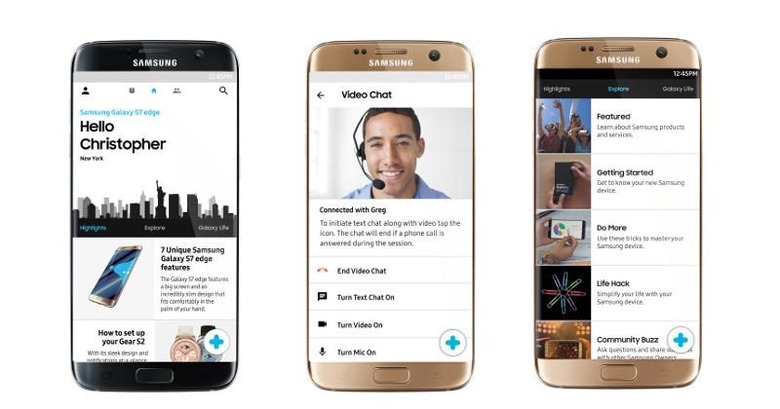 We may receive a commission on purchases made from links.
Smartphones are continuously getting more powerful and more sophisticated but, at the same time, they are also getting more complicated for some users. Perhaps no OEM in the Android market knows that better than Samsung. During times when friends and Google aren't of much help, Samsung's updated Samsung+ app, now in version 3.0, might hold the answer. The app now offers a variety of customer support options that could help Samsung Galaxy smartphone owners find the right answer, whatever their preferred mode of assistance may be.
There are some users who prefer talking to a real, living and breathing human being on the other end of the line when getting support. The Samsung+ app's Live Support connects such users with a customer support representative in their preferred mode of communication, be it through text messages, voice call, or video chat.
But then there are those that actually OK with doing things on their own, as long as they are pointed to the right steps and guides. The On Demand Answers feature offers such sources of knowledge, ranging from guides to FAQs, for users that like to help themselves first before calling for others.
Worst case scenario, neither method works. It's time to bring in the heavy artillery. And by that, we mean actually letting the customer care representative do the work. Samsung Assist in the Samsung+ 3.0 app lets such representatives remotely operate the smartphone to troubleshoot or even fix issues. That, however, only happens with the explicit consent of the device owner, given either through voice or video call.
The updated Samsung+ app also includes other features like Device diagnostics, a section for tips and tricks to optimize your device, and even a community feature for customers to feel more at home with other owners. The app can be downloaded from Google Play Store but it already comes preloaded on the Galaxy S7 and the Galaxy S7 edge. The new Samsung Assist remote control operation also only works on these two devices, though more smartphones and tablets will receive the feature through carrier updates in the future.
SOURCE: Samsung