Samsung adds A600 home theater projector to lineup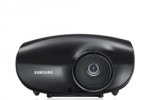 CEDIA is in full swing and as such, there is a glut of new home theater gear to talk about and there has been for the last week. Samsung today announced a new home theater projector at the show called the A600. The projector slots into the Samsung line behind the A800 and A900 units already available.
The Samsung A600 is priced at $1,795 and should be available soon. Samsung uses the same color technology in the A600 that it does in its higher-end projectors like color settings for HDTV and other standards. The device supports 1080p HD and has 1000 lumens of brightness.
The lamp is a 220W unit with a life of up to 4,000 hours in eco mode or 3,000 hours in bright mode. Connectivity features include two HDMI ports, composite, component, and S-video inputs. The lens is a short throw unit with a 1.99 ratio and the contrast ratio is 3000:1.