Samsung 960 Pro and EVO SSDs deliver up to 3500MB/s writes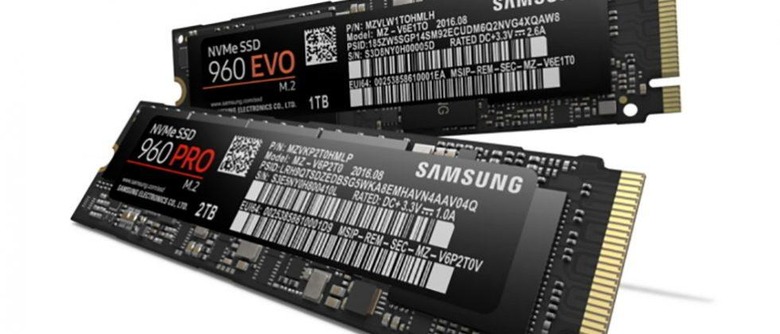 At first glance these might look like sticks of RAM, but they are actually Samsung's latest storage devices the 960 PRO and 960 EVO SSDs. Both of the drives are M.2 form factor SSDs that use Non-Volatile Memory Express technology. Both of the SSDs also use Samsung Magician software package. Samsung is aiming the new SSDs are users who want higher bandwidth and lower latency for gaming or moving large 4K files.
The 960 PRO and 960 EVO SSDs use the PCIe Gen.3 x4 lane interface and are compliant with NVMe specs. Samsung Dynamic Thermal guard technology helps the speedy SSDs to stay cool when they are in use. The 960 PRO has peak sequential read and write transfer speeds of 3500 MB/s and 2100 MB/s respectively. Random read and write IOPS are 440,000 and 360,000.
The 960 Pro will be offered in 2TB capacity, the highest capacity for a drive of its form factor available commercially. Other available capacities include 512GB and 1TB versions. The 960 EVO will be offered n 250GB, 500GB, and 1TB capacities. It uses Samsung Intelligent TurboWrite tech giving it 3200 MB/s read speeds and 1900 MB/s writes. The random read speed is up to 380,000 IOPS and random writes are up to 360,000 IOPS. The 960 PRO and 960 EVO SSDs will be offered starting in October with prices starting at $329.99 for the PRO and $129.99 or the EVO.
"We were proud to erect the NVMe era last year with the introduction of our 950 PRO SSD. Now, with the introduction of the NVMe 960 PRO and 960 EVO SSDs, Samsung is once again taking the next step in the multi-terabyte SSD technology and the storage revolution, providing users higher capacities and speeds than ever before within an NVMe PCIe drive to create new possibilities for consumers and business professionals," said Un-Soo Kim, Senior Vice President of Branded Product Marketing, Memory Business at Samsung Electronics.
SOURCE: Samsung