Samsung 1TB UFS chip practically confirms Galaxy S10+ rumor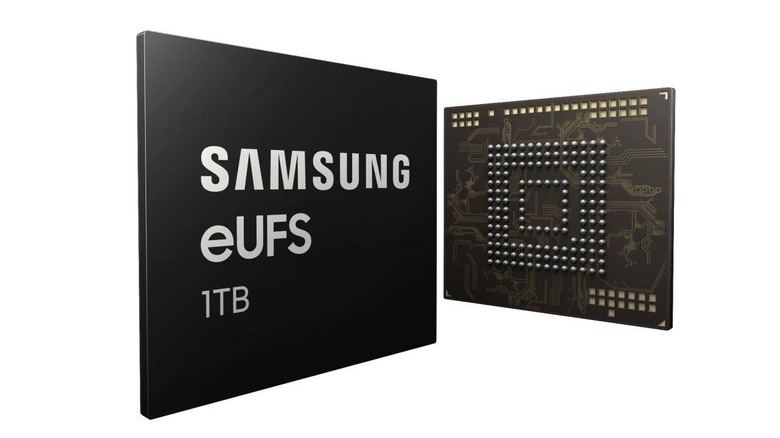 Unlike LG, Samsung isn't one to always drop hints or pre-announce products and features. What it does, however, is announce the components that usually end up on its next flagship phone. In this case, the Korean manufacturer is announcing the mass production of is embedded Universal Flash Storage chip or eUFS with a capacity reaching 1 terabyte. And while that may already be an important achievement in itself, it's even more interesting because of the rumors surrounding the upcoming Galaxy S10+.
Smartphones have really come a long way from offering only an average of 16 to 32 GB of eMMC storage to, now, 1 TB. Especially one that is a faster eUFS type of flash storage. Although it's not exactly unexpected since we already have 512 GB phones these days, it was a matter of who will get there first and how.
Samsung's semiconductor business, one of its most profitable, has been playing around with stacking V-NAND flash memory for even more capacity. In this case, Samsung stacked 16 layers of 512 Gigabit (Gb) V-NAND flash memory. With 1 TB of storage, you're getting twenty times more than the average 64 GB on most premium smartphones. At this point, you might not even need a microSD card at all.
And it isn't just the storage either. Samsung's new 1 TB eUFS is also its fastest yet, with a 1000 MB/s sequential read speed and 260 MB/s sequential write speed. Samsung says that's twice the speed of a typical 2.5-inch SATA SSD. In practical terms, this would go hand in hand with a camera sensor that can record video at 960 fps.
Although Samsung isn't saying it directly, of course, this feeds rumors of a premium version of the Galaxy S10+. That model will reportedly have 12 GB of RAM and 1 TB of storage. Since Samsung is already capable of manufacturing the former, this announcement proves it is also capable of the latter.