SageGlass Simplicity electrochromic glass is solar powered and controlled with an iPad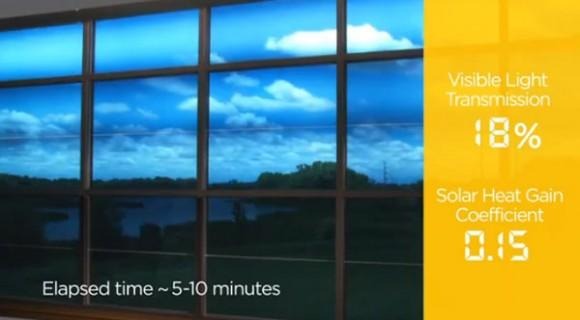 In some instances, there is a need to control light and heat that enter a home or business through windows. There are basic solutions such as tinting, but that may not be ideal in all uses. A company called Sage has some very interesting electrochromic windows that are able to tint itself in response to changing light conditions.
The company has announced what it claims to be the industry's first electrochromic glass that is completely solar powered, self-contained, and controlled wirelessly using an iPad. The new glass is called SageGlass Simplicity and it is a dynamic glass that is electronically tintable. The big feature of the glass is its ability to darken or clear automatically or manually based on lighting or the owners desire.
SageGlass Simplicity requires no electrical wiring to operate, unlike similar products that require a low-voltage wired connection. The Simplicity glass uses a thin strip of solar photovoltaics at the bottom or on the side of each pane to provide the electricity needed. The glass has a battery backup to provide power for up to two days.
The tinting of the glass can be controlled using light sensors to automatically control the darkness of the window. It can also be connected to building management systems from various manufacturers. An iPad app is available that allows users to control the darkness of the window on demand. The panels also have integrated mesh communications allowing multiple panes to be controlled with one interface. Apps to control the glass are in the works for the iPhone and Android devices.
SOURCE: SageGlass