Russian police seize meteorite fragments being sold online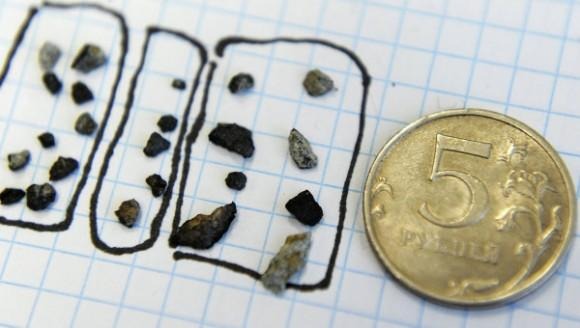 Late last week a massive meteor entered the Earth's atmosphere over the Chelyabinsk Region in Russia. The massive meteor was large enough to cause significant damage and injury as it exploded over the city of Chelyabinsk, which has roughly 1,000,000 citizens. If you've ever watched the show Meteorite Men on television, you may know that pieces of meteorite can be worth a significant amount of money.
According to the show, well-publicized and witnessed meteorites are worth even more than those that went unnoticed. Based on that, you would expect fragments of the meteor that impacted Earth in Russia to be worth a significant amount of money. Some enterprising citizens of the Chelyabinsk Region are attempting to sell what they claim to be fragments of the meteorite on the Internet.
Russian police say that they have confiscated fragments supposedly of the meteorite from a Chelyabinsk Region citizen, born in 1984. The citizen was trying to sell the substance on the Internet according to authorities and police confiscated about 60 g of material from the citizen. Police state that they have sent the supposed meteorite fragments for testing to determine composition and if the material poses any health risks.
NASA scientists say that the meteor that entered the skies over Russia was certainly large enough for fragments to have reached the ground, and some fragments could be very large. Russian police say that citizens are trying to sell items they call meteorite fragments online for between 10,000 and 500,000 rubles, which works out to about $330 up to $16,600. Russian authorities are asking people to not buy the fragments.
[via Ria.ru]