Rumored Canon pro-digital camera in the works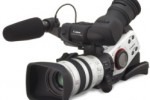 Could Canon be working on a professional digital camera? That's the buzz going around the rumor mill today and if true, the specs are expected to be pretty impressive. This could be completely false, but it's worth keeping your eye on, anyway.
If true, Canon is creating a video camera for the pro market that uses their 1x APS-C CMOS sensor. This would allow for video capture of up to 120 frames per second and 12.1 megapixels. Now that would certainly be impressive!
A few new lenses are supposedly in the works as well that would go along nicely with the camera. Specifically, a 16mm and a telezoom lens. Again, this is just a rumor at this time, but I think it would be a great addition to the Canon family. And I'm sure several pro videographers out there would like to see it come to fruition as well.
[via CrunchGear]