Rumor: Wistron to build 3D HP and Dell notebooks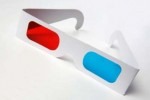 At CES in 2008 and 2009, NVIDIA was showing off some sweet 3D gaming tech in its booth. In 2008, I spent some time playing Need for Speed Pro Street in glorious 3D in the NVIDIA booth and the experience was easily one of the best driving game experiences I have had. 3D is coming of age rapidly with a glut of home theater products being 3D ready today. 3D is also set to come to our notebooks.DigiTimes reports that a leading ODM Wistron has received an order to build 3D notebooks for both HP and Dell. These notebooks will presumably be gaming machines since gamers are the most frequent group of early adapters.
According to reports, Wistron is also in negotiations with Lenovo and Sony to bring 3D notebooks to market. Wistron has a 3D system that it builds on patents that it owns. This fact makes the Wistron 3D system cost only slightly more than a non-3D machine reports DigiTimes.