Rumor - Guitar Hero III to feature Tom Morello of Rage Against the Machine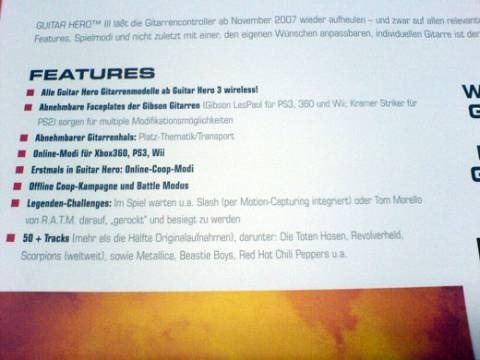 The competition between Guitar Hero III and Rock Band is really heating up as the launch dates inch closer. It looks like Red Octane is going all out trying to get big names to appear in Guitar Hero III. So far they have you battling Slash from G&R, and having Bret Michaels from Poison lending you vocals, but now another name has cropped up.
Anyone that listened to Rock or Alternative music in the 90's remembers Rage Against the Machine. They've been broken up for some time, although they got together to do a gig earlier this year. Anyway, guitarist Tom Morello's name was mentioned in a German Activision brochure as one of the bosses you'll be playing.
The big question is what song he's going to rock out to, or even what band the song will come from. The brochure names his as being from Rage, but while that's the most popular band he's been in, that's not the only one. He has also been in Audioslave for the last 6 years, though they are currently on hiatus. Since Rage isn't officially back together and Audioslave is on hiatus, that only leaves one band that he's still in. The Nightwatchman is his "political folk alter ego," he released his first solo album under that name earlier this year. Please god let it be a Rage song.
Tom Morello Rages Against Guitar Hero III Machine? [via kotaku]