Rumor - 3G iPhone Coming To Europe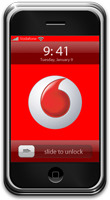 European iPhone fans may end up getting a better deal than we have here in the US. According to sources, Apple is teaming up with Vodafone, T-Mobile Germany and Carphone Warehouse to bring a 3G version of the handset to the European market.
This has not actually been confirmed by Apple, but by Monday things should become clear. Apparently Apple is said to be making an official statement sometime on Monday. Rumor also has it that mobile phone carrier Orange was being considered for a release, but their tendency to overbrand and censor phone features made Apple decide against them.
What is interesting is that Steve Jobs noted that one of the big reasons for not including 3G into the US version of the phone is because it demands more juice from the battery. Now that AT&T's network has been sped up, it actually may work out better for us that 3G wasn't in the iPhone as European users may experience a shorter battery life. Then again, rumors are also speculating that they will have better data plan pricing than we've got over here.
3G Euro iPhone rumoured for Monday [via MYiTablet]