Rovio confirms Casey's Contraptions acquisition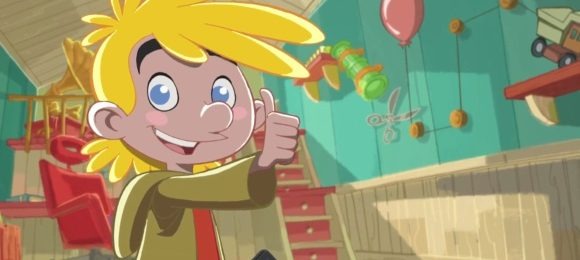 Yesterday Angry Birds creator Rovio revealed that the franchise had hit one billion downloads across all available platforms. The video promised something was coming in the future, and finished with an unfamiliar character giving the viewer a little wink. Turns out he's the star of the game Casey's Contraptions. Rovio has now confirmed that it has acquired the rights to the property from developers Snappy Touch and Mystery Coconut.
Ville Heijari, VP of franchise development for Rovio, confirmed the acquisition to Gamasutra: "Working with Noel [Llopis, Snappy Touch founder] and Miguel [A. Friginal, Mystery Coconut founder] has been fantastic, and this is a game that we all fell in love with from the first play. The gameplay is a perfect fit in our arsenal with its approachable, fun and highly addictive take on the physics puzzler genre."
Rovio says that they're reworking the game to "enhance" it, presumably adding new content and giving it a graphical revamp, as alluded to in the Angry Birds video yesterday. The original Casey's Contraptions has been removed from the App Store, with Rovio saying they plan to bring the new version to iOS and Android "this summer", then expanding to other platforms later on.
The game sees you manipulating and positioning objects in order to tackle puzzles, making large use of physics in the gameplay. We've embedded a trailer for the game below so you can see for yourselves, and it's to be expected that Rovio will add some new twists to the gameplay and make sure it reaches a very large audience.