Roush Unveils 2012 RS3 Hyper-Series Mustangs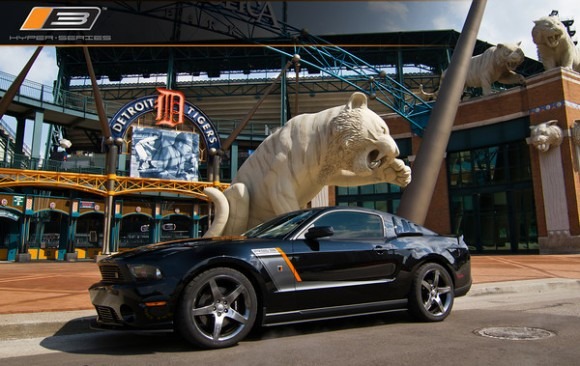 The Roush name in America is closely tied to NASCAR and modified Mustangs. Roush has unveiled a new series of other 2012 Mustang fans out there that is called the Hyper-Series. These cars start out as your typical black 2012 Mustang GT with the 5.0 V8 and 6-speed transmission and then head to Roush for some tweaks. The package costs $27,300 on top the price of your typical Mustang GT, which costs roughly $30,000 to start.
The key component of the RS3 package as far as the performance goes is the 2.3L ROUSHcharger supercharger that pumps the 412HP 5.0 V8 up to 540hp and 465ft-lb of torque. The remainder of the package is suspensions bits, new wheels and tires, and a lot of show. The Hyper- Series RS3 cars are all black with the a choice of four bright colors for trim. I am really digging the colors too. Frankly, it was too much for our sensible resident Brit, Chris Davies. He couldn't take that much cool and had to go lay down for a bit to recover.
The colors in the Hyper-Series package are bright and include "Mat It Mango", "Gas It Green", "Punch It Purple", and "Launch It Lemon" accents on the vehicles. The main color is always black and grey graphics with the bright Hyper-Series colors as bits of trim. The cars come with the color on the graphics and the stitching on the seats inside the car and other touches carry the color over. The cars come with a shift knob that matches the trim color or a black one to help Brits survive the cool. There will only be 25 of each color Hyper-series car offered and they are serialized as "Vehicle #xx of 25 Mat it Mango" and so on.