Ron Paul supporter creates Ron Paul: Road to REVOLution video game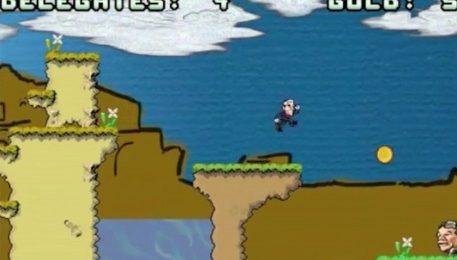 There's a new video game in the works that will let you trailblaze across the 50 states, collect gold, and fight off against a series of boss battles. Nope, this isn't the latest Kinect-powered Xbox 360 blockbuster. It's a humble creation by an ardent fan of Republican presidential candidate Ron Paul. The game is called Ron Paul: Road to REVOLution, and it has received its contribution goal on Kickstarter.
When you think of Ron Paul supporters, video game developer may not be the first thing that comes to mind, but just has Ron Paul himself has been able to do, Daniel Williams is showing there's more to someone than meets the eye. His game, which he describes as a "gift to the liberty-loving community, as well as fans of classic gaming," features some of Paul's biggest talking points – e.g., going back to the gold standard, and ending the Federal Reserve. Boss battles within the game are meant to by symbolic of the Fed.
Williams was looking for $5,000 to finish the project and release it to the public, which he earned in days of submitting the proposal on Kickstarter. Of course, there's little chance this will do anything to raise Ron Paul's standing. He has not won a single state in the primary battles so far, though he has picked up some delegates in states where even the losing candidates could pick up some ground if they gained enough votes. Surely this is more a labor of love for Williams, who hopes other Paul backers will appreciate his ingenuity.
[via WSJ]