Rollei Actioncam 430 is a small 4K adventure camera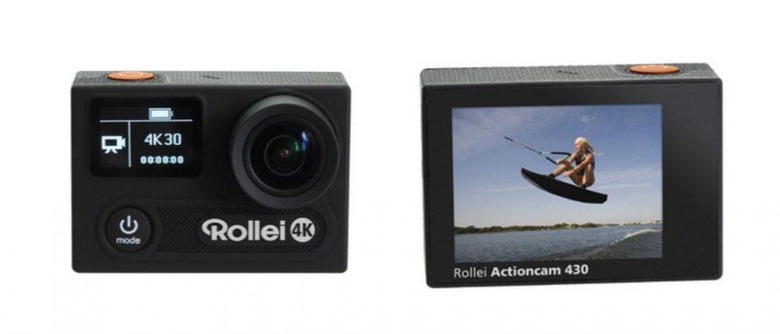 A tiny action camera was recently shown off at Photokina, and though it doesn't have the same household name status as GoPro, it does come in a similar form factor. The Rollei Actioncam 430 is small and rectangular in shape with a small display, rugged body, and protruding lens. Like other action cameras, the Actioncam 430 is designed to record your various adventures, including ones involving water (thanks to a waterproof case).
The Rollei Actioncam 430, which is available in Europe now, can record video in up to 3840 x 2160 resolution at 30fps, as well as 2560 x 1440 at 60fps, 1920 x 1080 resolution at 30 to 120fps, and 720p at up to 200fps. As well, and thanks to the integrated Sony sensor, the camera can also take 12-megapixel still images.
The camera has a small screen on the front with snippets of details like recording mode and resolution, while the back has a larger 2-inch TFT screen with a modest 320 x 240 pixels. Footage and images cover a large span thanks to the 170-degree super-wide-angle-lens.
The camera itself is not waterproof, so if you're taking it out on the water, you'll need to use the protective and waterproof case; it supports depths down to 40 meters. Other features include a battery with a run time up to an hour and a half, assuming you're not using the WiFi feature. That WiFi feature, as well, works with a related Android and iOS app for access on a tablet or smartphone.
The camera is currently available for 249 Euro.
SOURCE: DPReview