Roku update brings surround sound to Smart Soundbar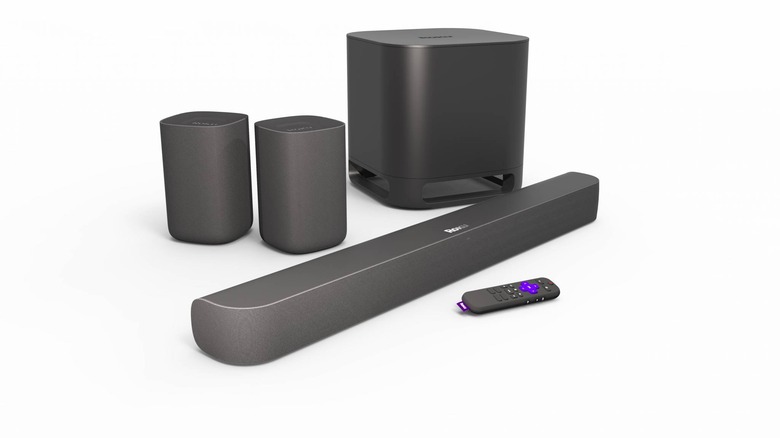 Roku today announced that it will soon be pushing an update to its smart soundbars that will enable support for surround sound setups. At the same time, Walmart is launching new Roku wireless surround sound speakers through its onn brand, so if you need to buy additional speakers to pad out your surround sound setup once this update ships, Walmart is one of the companies vying for your dollar.
The goal here seems to be simplicity, as Roku envisions surround sound setups with three components: the Smart Soundbar, acting as something of the surround sound system's anchor; the Wireless Subwoofer, which will of course bring the bass up a notch; and now either the TV Wireless Speakers or onn's Wireless Surround Speakers, which can be placed at the back of a room to complete the surround sound picture.
Key to Roku's vision for ease-of-use seems to be both wireless connectivity and the ability to expand a system over time. Roku says that users will be able to set up their surround sound systems by powering each speaker, pairing them to one another "via simple menus," and then running through a sound check. Some audiophiles may scoff at the notion of a wireless surround sound setup, but for the average customer, that could be a big win.
Affordability is also part of Roku's angle here, with the Smart Soundbar normally running $179.99 and its TV Wireless Speakers priced at $199.99 for a pair. Add in the Wireless Subwoofer and the price goes up by another $179.99, though Roku does offer bundles that include it and the Smart Soundbar for a total of $300. Bought all at once, a complete Roku surround sound system costs a decent chunk of change, but it's still far less than some more luxurious surround sound systems out there.
Walmart's onn speakers will bring the cost down a little bit, as its Wireless Surround Speakers will run $149 when they launch next month. Onn also makes its own versions of the Smart Soundbar and the Wireless Subwoofer, which typically cost $129 each, bringing the price down further. Those of you who already own a Roku Smart Soundbar will want to keep an eye out for this surround sound update, which should be rolling out next month.