Rocket League's new Rumble mode arrives in September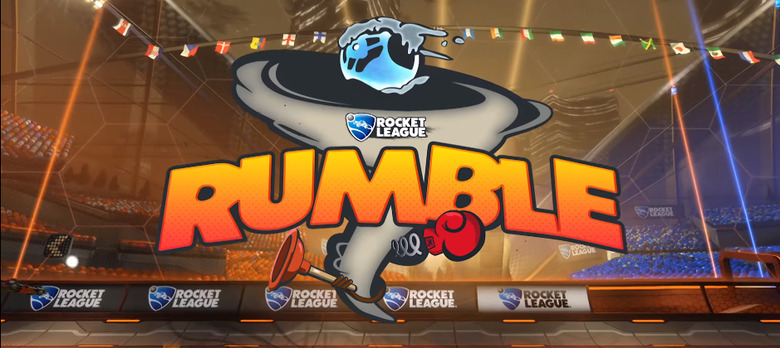 At this point, it's safe to say that Rocket League has been a major success. Even a year after launch, players still flock to the game, but if the Rocket League's standard competitive mode is starting to feel a little stale, never fear: developer Psyonix has revealed its intention to shake things up with a new game mode called Rumble, and it'll be landing on Xbox One, PS4, and PC in an update next month.Rocket League rose to fame thanks to its frantic gameplay, and Rumble appears to amp that up to eleven. The overall goal of each match is still the same – score more points than the other team – but in Rumble mode, players are given a variety of power ups that make scoring goals easier said than done.
These power ups appear to include extendable boots and boxing gloves, tow lines, spikes, tornadoes, and tractor beams, along with my favorite of the bunch: the ability to freeze the ball in place, potentially halting a goal-in-progress. In viewing the trailer below, it's pretty clear that Rumble mode will be ridiculous, and that's definitely exciting. Have a look for yourself:
The best part is that Rumble mode will be a free addition to the game, so there's no real barrier to entry in order to check it out. This is just the latest in a line of free updates for Rocket League, arriving after other updates that added ice hockey and basketball modes. Those modes enjoyed some moderate success among the Rocket League faithful, but we have a feeling that Rumble mode will have no problem finding a vast audience among the game's fans.