Rock Band Tour 2007 - Inside the Tour Bus, rocking the main stage and another interview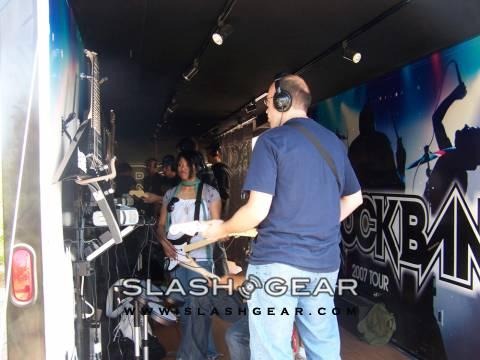 So what was it like to attend one of the Rock Band Tour stops? It was awesome to say the least. I spent most of the time hanging out with John and the nearly legendary Fabio who were having a great time. I shot some good footage of what you will experience if you stop by. Hit the jump for a walk through, as well as a clip of some people rocking out on the main stage (yes, there's footage of me rocking out).
The first thing you notice when you enter the bus is that there is no music. Everyone is wearing headphones so they know what they're doing. This means that if you're not playing you hear a lot of buttons clicking, drumsticks hitting the pads and a lot of off-key singing. I can't really make fun of the people who sing off-key, as I have no doubt that I would be one of those people.
If you watch this next clip, I'm the guy on the right side of the stage playing lead guitar on Soundgarden's Black Hole Sun. This video is another reason why I can't make fun of the people singing off-key. I look like a complete idiot up there rocking out. That's ok though, it was probably the most fun I've ever had playing a song. By the way, my band's name is Swiss Steak, and yes, we rock.
I'm sorry to say I don't know the other band that was up on stage, but I picked up two people to help me rock since the rest of my band wasn't there. Dan is over on the left playing bass, my man Mike (original member of Swiss Steak, as well as my camera man), Tanya is rocking the drums and that's me playing the Fender on the right. Just to give you an idea of the scoring, I was playing on expert, the other three were on medium and we all hit around 92-94% on our individual instruments and we had a score of just over 490,000 on Black Hole Sun.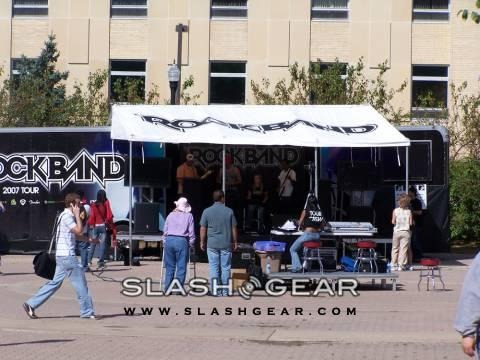 One band that was rocking out was Pearl Necklace. Sadly I didn't get any footage of them rocking out, but I did manage to pull them away from the bus for a brief interview. Unfortunately the sound is a little low, so you might need to crank your speakers up to 11. These guys basically just gave me an outsider's opinion of the game. You can bet they'll be picking the game up when it comes out on November 23rd. Surely this can't be the end of my coverage, right? You're right, there's still more to come, stay tuned.