Robot Dog CHiP Is Like The Spiritual Successor To Sony's Aibo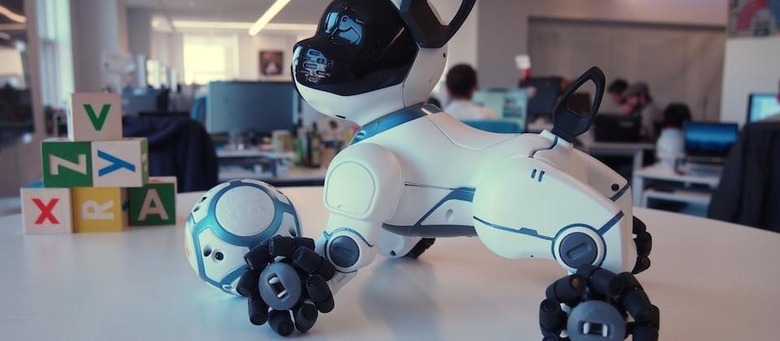 High-tech toy-maker WowWee has just unveiled its latest robotic device, a dog named CHiP. Short for "Canine Home Intelligent Pet," CHiP is a black and white robotic puppy with blue LED, and more than a few sensors that allow it to navigate rooms, find its toy ball, and even go to its charging station. The toy also uses Bluetooth to connect with a wristband worn by users, which they can use to give the dog commands, as well as have it track their location.
CHiP features unique looking wheels in place of feet, which allow it to freely move around the floor in any direction. When users wear the wristband, the dog can know where they are, while a thumbs up button gives it positive reinforcement.
The little robotic dog can also identify when a child is nearby, staying still and waiting for its head to be pet. WowWee says that the toy will eventually feature more touch-based sensors, offering more physical interactivity and responses.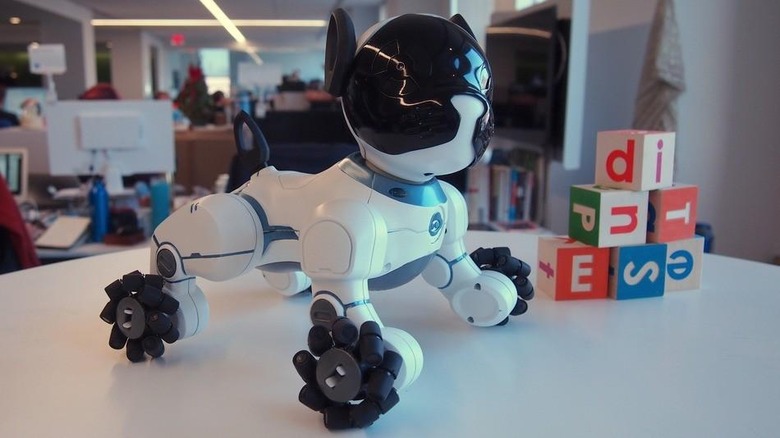 CHiP's toy ball also has its own beacon inside, communicating with the dog and allowing it be "seen" when playing fetch or catch. The device features plenty of other smarts as well, such as recognizing when the sun begins to set and starting to look for its charging "bed." It will also keep itself busy when users aren't around, and in turn get excited when they return.
WowWee says a full charge will offer up to two hours of operation, while charging itself can take a "couple" of hours. A price for CHiP has been set at $199, but as the toy is still in the prototype stage, it won't see a final release until sometime next year.
SOURCE Mashable