RoboGlove, a GM and NASA product, helps wearers get a better grip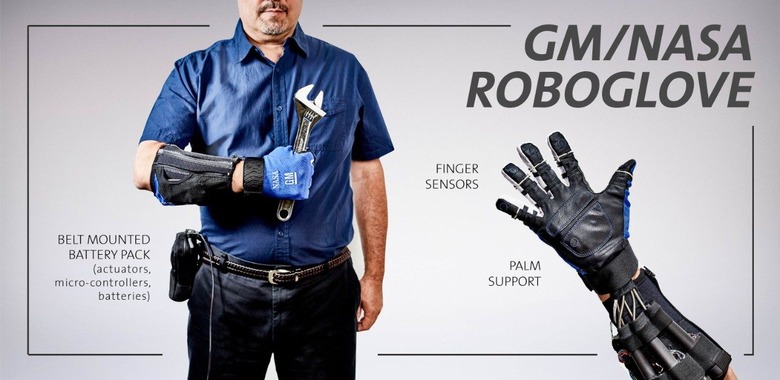 Factory workers and those in other industries may soon get access to RoboGlove, a robotic glove that lends better gripping power to the person wearing it. The glove was created through a joint partnership between NASA and General Motors, originally for use on the International Space Station. Through a new licensing agreement with Swedish medical technology company Bioservo Technologies AB, the RoboGlove will be rehashed with technology from Bioservo's own Soft Extra Muscle Glove; the resulting product will first be tested in some of GM's own plants.
RoboGlove, in its existing form, is a wearable glove powered by a battery and decked out with various "tendons," actuators, and sensors. The hardware is designed to mimic the human hand's muscle and tendon structure, and could be used for various things like operating tools.
The product Bioservo has in mind will, at least initially, be a "grasp assist device," according to General Motors. This grasping glove will reduce the fatigue experienced by humans who have to do some type of gripping on a regular basis — a mechanic gripping a wrench, perhaps, or a factory working operating a lever. In the future, such technology could lead to the development of a so-called "soft exoskeleton" — a full-body robotic system that helps pick up heavy items, walk many miles, and more.
Says GM, it has already "briefly tested" the RoboGlove in a plant that hasn't yet started production; at some point it decided to find a partner that would "refine" the glove in different sizes and help tackle unspecified issues. The product produced by Bioservo will first be tested in some GM plants, but a finalized version will eventually be offered for sale to companies and medical facilities interested in its rehabilitative and fatigue-zapping powers.
SOURCE: GM