RIM's BlackBerry Curve 3G for Sprint Announced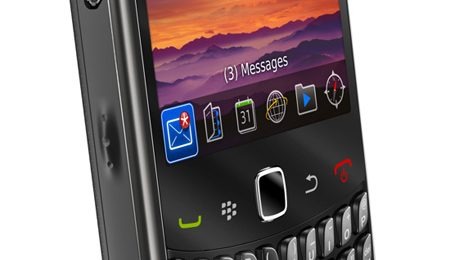 The Curve lineage is one of BlackBerry customer's favorites. Featuring a pretty slim form factor and one of the best uses of a full physical QWERTY keyboard to date, it's the total BlackBerry package in a body that most everyone can enjoy. Building off that success, Research In Motion today have officially announced the future availability of the next Curve device: the Curve 3G. The model number is 9330, for those technical fans, and it will be available for your purchase in just a matter of weeks.
The BlackBerry Curve 3G may not be a powerhouse when it comes to smartphones, but it doesn't necessarily have to be. RIM has managed to pack 512MB of RAM into the Curve 3G, and the display features a resolution of 320 x 240. The device is going to ship with RIM's BlackBerry 5 mobile Operating System, but it is officially a "BlackBerry 6-ready device." The device is expected to get upgraded to the new Operating System some time in 2011.
Other features you can expect is a Pandora radio app pre-installed, and WiFi b/g available. You'll have access to BlackBerry apps, like your favorite social networking sites, courtesy of the BlackBerry App World. You also get GPS, and Sprint is planning to add visual voicemail to the device some time soon. You'll be able to get your order on for the device, as well as through Business Solutions, beginning on September 26th. It will then be available in Sprint stores and every other sales channel on October 10th. You'll be able to buy it for $49.99 on a new, two-year contract, which is also after a $100 mail-in rebate. You'll need to sign up for Sprint's Everything Data plan or Business Advantage Messaging and Data plan, though.
Press Release
OVERLAND PARK, Kan. – Sept. 15, 2010 – Sprint (NYSE: S) and Research In Motion (RIM) (NASDAQ: RIMM; TSX: RIM) today announced the upcoming availability of BlackBerry® Curve™ 3G (model 9330), a new addition to the popular BlackBerry Curve family of smartphones. The new model offers Sprint customers a powerful, feature-rich handset at an easily affordable price.

BlackBerry Curve 3G will be available beginning Sunday, Sept. 26, through Sprint's direct ship sales channels including Business Sales, Telesales (1-800-SPRINT1) and Web sales (www.sprint.com) for $49.99 with a new two-year service agreement, after a $100 mail-in rebate (taxes and surcharges excluded). It will then be available in all remaining Sprint sales channels beginning Sunday, Oct. 10.

The new BlackBerry Curve 3G smartphone features a sleek and professional look with its slim and lightweight form factor, textured battery door and a new chrome-like finish in Graphite Gray or Royal Purple. BlackBerry Curve 3G has 512MB Flash memory as well as a MicroSD/SDHC slot that supports up to 32GB memory cards for media storage.

This new smartphone ships with BlackBerry® 5 out of the box and is BlackBerry® 6 ready. BlackBerry 6 is a new operating system for BlackBerry® smartphones that will be available to Sprint BlackBerry Curve 3G customers in 2011. It retains the trusted features that distinguish the BlackBerry brand while delivering a fresh and engaging experience that is both powerful and easy to use. Key enhancements will include a new intuitive user interface, new Social Feeds application, WebKit browser and universal search.

"The BlackBerry Curve series continues to be a tremendous success," said David Owens, vice president of Marketing for Sprint. "We are excited to offer this new model and then bring the new BlackBerry 6 operating system to it in 2011. BlackBerry Curve 3G offers the same value and form factor our customers have come to expect but it also provides key enhancements to stay productive and entertained with email messaging and the latest multimedia and social media features."

BlackBerry Curve 3G offers many popular features including:

Convenient trackpad interface with full QWERTY keyboard

2.0 MP camera with support for video recording

Dedicated media keys to play, pause and skip songs

Wi-Fi®: 802-11 B/G and GPS

Visual Voicemail

512MB Flash memory plus a MicroSD/SDHC slot for up to 32GB of media storage, 2GB card included

"The new BlackBerry Curve 3G is an extremely attractive, approachable and affordable handset that provides a perfect choice for Sprint customers who are looking for a user-friendly 3G smartphone to help them make the most of their day," said David J. Smith, vice president of Product Management, Research In Motion.

The BlackBerry Curve 3G smartphone will support a variety of multimedia applications, including Sprint Music Store™, Sprint TV™ and Pandora™. It also boasts dedicated applications for a smoothly integrated social networking experience with Facebook®, MySpace™ and Flickr™.

BlackBerry Curve 3G requires activation on an Everything Data plan or a Business Advantage Messaging and Data plan. Additional plan options are available for business customers. Sprint's industry-leading Everything Data plans with Any Mobile, AnytimeSM include unlimited Web, texting and calling to and from every mobile in America while on the Sprint network. Everything Data plans start at $69.99 per month – the same price Verizon and AT&T charge for unlimited talk only (all price plans exclude surcharges and taxes).1

With the Sprint Free Guarantee, customers can take advantage of BlackBerry Curve 3G for 30 days. If not completely satisfied, customers may return the smartphone within 30 days to get reimbursed for the handset purchase and activation fee, get both the early termination and restocking fees waived, and receive a full refund for the monthly service plan charges.2

Sprint is the only wireless carrier to offer Ready Now service with trained retail associates to work one-on-one with customers to personalize their BlackBerry Curve 3G, set up features and demonstrate how it works before the customer leaves the store. Customers have the choice of sitting down with a Sprint retail associate at the time of purchase or they can schedule an appointment for a later time at www.sprint.com/storelocator.